So, what is a project?
The diary that's waiting to be filled, the blank canvas that needs some color, the empty land that requires a building; they are all projects if you set your mind to complete them within a particular time frame.
A project can be any activity that has a deadline. To make it more clear, a project can be a goal, a resolution, a task, or simply something that you want to do in order to produce a certain result.
Terms to watch out for:
Consider a blank canvas. The desired outcome or product is the completed painting. If the artist decides to finish within a week using only readily available art supplies, then these are the planned constraints of the project.
Scope encompasses exclusively the work you do to produce the planned outcome for your project. If the artist decides that framing their painting, displaying it in art exhibitions, and putting it up for auction is a part of this project, then it means that the project has gone beyond its scope.
Check out the video below for a quick understanding of what is project management.
Why do businesses need a project management system?
Most projects have all their resources, time, money, and goals mapped out, but they still aren't organized. People used to working in disordered environments may believe that everything will turn out great, but what feels like a workable system to one person is just confusion to another.
This is where a project management system can help. Project management ensures that you not only meet your project goal, but you get it done on time, on budget, and within your scope.It tells you how to begin, what comes next, and how to end. It's like using a template. All that you need to know is available for your reference. You just have to apply it to your own project.
It'll help you see if the way you're doing things is effective. It'll help you by giving you alternatives, if something goes wrong. It'll help you stay on track of your end goal. Essentially, project management does not spoon-feed you, instead it teaches you to cook—in an easier, and smarter way than you would have done without it. Now let's see what is project management and the steps involved in it.
What are the processes of project management?
Every project goes through roughly five stages as it progresses, called process groups—otherwise known as project management processes. These process groups are applied to every stage of a project life cycle. The project management steps are as follows:
01

Initiation

This is where you create a general outline before drafting your "story". An important question to be answered here is, "What is the scope?" It's important to be clear about your goals during this phase. If you're building an office—the scope is to have a workable environment where 10 people can operate peacefully. However, as the project progresses, you continue to add extra rooms on the fly. The end result is less likely to be a functional office, and more likely an over-budgeted mess.
02

Planning

During planning, you'll get down to the details. Lay down structured plans to manage resources, cost, time, risk, and communication. If you decide that instant messaging is what works for you, decide who will stay in touch with whom, how often, through what channel, and what it's regarding. Although it may seem extensive, proper planning makes your work so much easier.
03

Execution

Here is where all your carefully laid out plans go into action. An important point to remember during execution is to manage relationships—both within the project team and with any customers. Proper coordination and communication between teams will ensure that your work gets done on time, and without any hiccups.
04

Monitoring and Controlling

This runs parallel to the execution stage. It can more appropriately be referred to as a control group, rather than a process group. Change requests come from all directions, from your customer or from stakeholders. On one hand, you don't want to change the project too much from its intended plan, and on the other hand, you don't want to anger an important stakeholder. Finding the right balance and establishing control is what this stage is all about.
05

Closing

The culmination of all the project management stages, this phase consists of tying up loose ends and finishing up the project. You'll review all the phases and make sure that everything has been done to deliver the end product to the customer. Finally, you'll conduct an appraisal post-completion to analyze what has been done, and what could have been done better.
Key features of a project management system
There are some key features that every project management system should possess in order to manage projects effectively. Here are some of them:
Planning :

Plan and track your work items

Progress tracking :

Check for schedule deviations and identify bottlenecks

Budget management :

Manage project budget and forecast costs based on real-time progress

Task automation :

Automate tasks to handle repetitive actions

Issue tracking :

Set up escalations to deal with issues

Time tracking :

Track time for work done and create invoices based on the billable hours

Resource allocation :

Allocate work judiciously based on employee workload

Document management :

Organize and collaborate over all project related documentation

Project collaboration :

Stay connected with your team using powerful collaboration features

Reporting :

Generate reports to analyze data and take informed decisions
Why is project management important?
There are several benefits to project management—chief among them is the simple fact that your chances of succeeding in your projects are greatly improved. Projects are notorious for not being able to meet their original goals. In fact, according to the CHAOS report (1994), 31.1% of IT projects were cancelled before they could even be completed. Project management helps improve these conditions. A whopping 97% of organizations believe that project management is critical to business performance and organizational success, according to a PwC study. Some key benefits are:
01

Working better, together

When it comes to managing projects, a number of people from different teams are often involved. Good communication and relationships between your teams can greatly improve productivity and will help keep projects on track. With project management, this becomes a priority instead of a courtesy, leading to a positive culture shift in your organization.
02

Getting the best out of your assets

Any resource that you have—an employee, an asset, or work time—needs to be utilized to get the best value. Proper project management ensures that no resource is left out of the loop. A successful project is not just about getting the right work done on time, but also ensuring that the people involved feel engaged and motivated. This means there's no imbalance one way or another—no single person is overworked or underworked, and no material resource ends is over- or under-utilized.
03

Driving engagement

The relationship with your stakeholders is what holds your entire project in balance. Some may want to be kept in the loop for every single change, while others may just want an occasional status update. It's all in the details, which project management accommodates, allowing you to engage with all your stakeholders in the right way.
04

Tackling obstacles

There should always be a contingency plan in place when you've made a well-researched risk management plan. It involves identifying the critical elements of your project's success and listing any factors that may affect them. Prioritizing potential risks and coming up with response plans is also a huge part of this plan. You don't want to give yourself a headache trying to find ways to deal with a broken faucet, when you haven't thought about what to do if your house catches on fire.
What are the types of project management system?
Project management systems can range from tools that facilitate free project management to enterprise-ready project management software. The main classification to be considered is if you prefer a cloud-based or on-premise system. Apart from this, depending on the type of project management methodology your organization follows, you may want to choose a traditional waterfall based tool or an agile project management tool. There are also systems that cater to specific industries like construction, education, IT and more that have features that are tailor-made for that particular vertical.
Benefits of using a project management system
Teams don't work the same way that they used to. Teams today use virtual tools for collaboration. There are many companies where people work remotely, and these tools are the only means for staying in touch. In these scenarios, online project management system makes the most sense to keep everyone organized and accountable.
The way we collaborate has changed. Approvals don't have to mean printing out forms and waiting for your manager to sign them. Meetings don't mean sitting around a table for hours, while listening to just one person drone on and on. What seems like a simple work item may involve input from various teams and people. Great ideas need not come from the top. Today, almost everyone has incredible access to information. The possibility of newer employees coming up with a brilliant suggestion is greater than ever before.
Traditional project management would involve preparing a mountain of documents at every stage. Today, virtual files have taken over, making online project management systems much more attractive for improving organization and storage.
Data, too, is perceived differently by different people. Flexibility in viewing your data may seem like a simple thing, but it goes a long way when you're managing huge projects. Advanced charts and reporting capabilities help here. Wading through large amounts of data to find what you need can be a huge task in itself. Giving visibility to everyone involved, while at the same time being able to access exactly what you need, is a big advantage, which a project management system is able to provide.
Why is Zoho Projects the best project management system?
Zoho Projects makes your work truly rewarding with its extensive planning, tracking, and collaboration capabilities. It's a hassle-free tool that has a simple, easy-to-use interface, with a mobile application that facilitates your projects from anywhere, at any time. Features like interactive feeds and forums, comprehensive charts and reports, time tracking, issue tracking, task workflow automation, and extensive integrations make this a go-to application for an all-round project management experience.
We also care deeply about your privacy. We have developed a comprehensive set of practices, technologies, and policies to help ensure your data is secure. If you are currently maintaining your data on personal computers or on your own servers, the odds are that we offer a better level of security than what you have in place.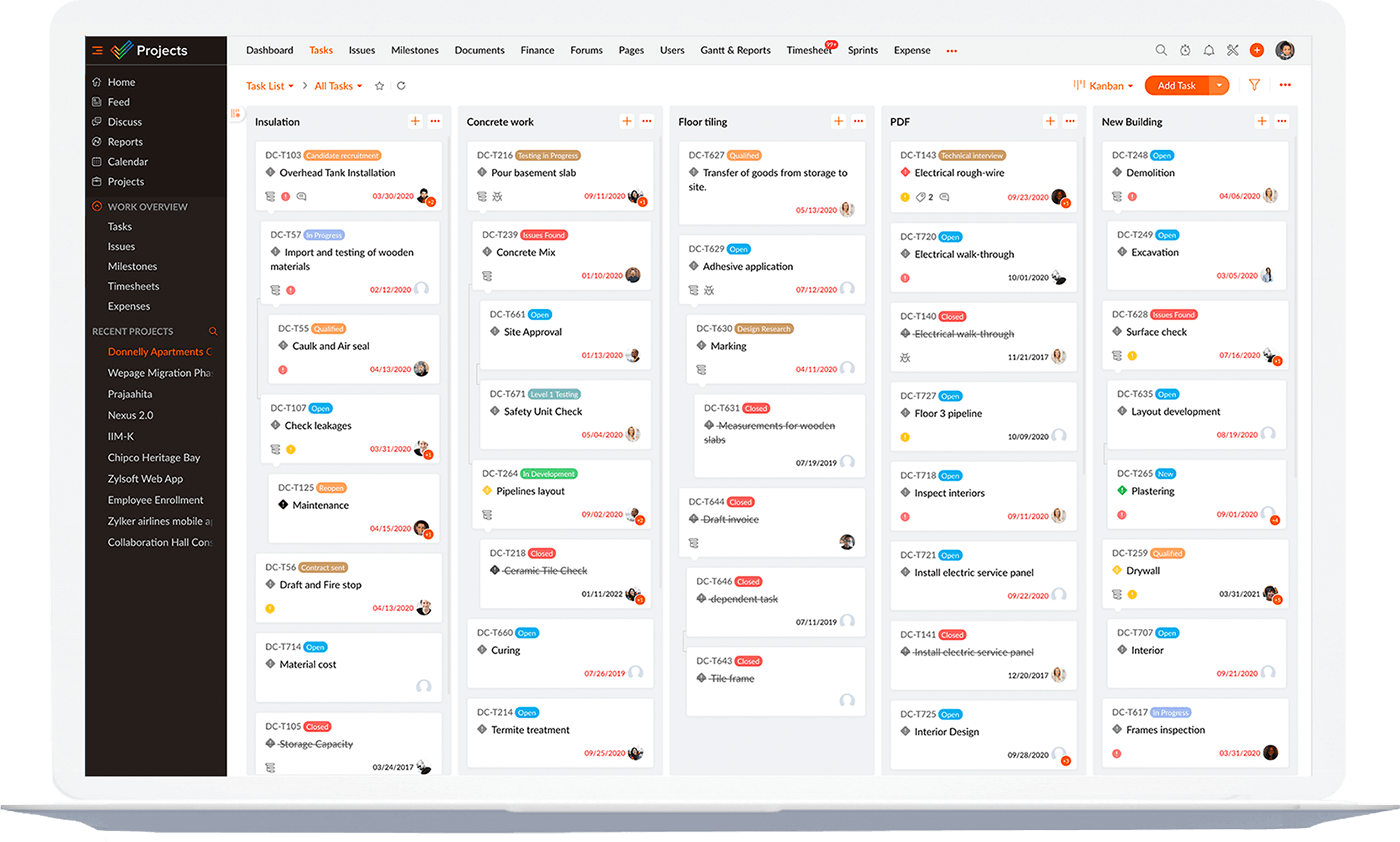 From initiation to closing, resource management, and handling issues, Zoho Projects helps you deal with anything, swiftly and effortlessly.