What are the key features of project management tools?
The key features of web-based project management tools, apart from basic task management are:
01. Project estimation
To ensure your project succeeds, it's important to not only track the real-time progress but also to estimate the project constraints based on your current performance. This could be in the form of budget forecasts, EVM or baselines.
02. Budgeting
Managing your costs to stay within the planned budget. Track expenses, track actual cost to invoice clients and pay employees, compare planned and actual cost, forecast budget, and analyze your budget health.
03. Resource allocation
Making sure the right people work on the right tasks. Avoid overworking or under working your employees by using the resource utilization chart. The top project management tools also help in assigning work based on the employee workload and availability.
04. Collaboration
Keeping all the project stakeholders on the same page. Effortless collaboration is an essential aspect of an online project management tool. Virtual collaboration tools like chat, web meetings, and forums are some great features to have.
05. Quality management
Always put out your best work by managing the quality of your project constantly. Issue tracking and resolution capabilities greatly help with this. Automation to escalate and deal with bugs is an added bonus.
06. Project administration
Onboarding your workforce, clients and organizational structure to a tool is important. From industry-specific templates to various third-party integrations, there are several ways project management tools can help you with project administration.
07. Risk management
People also use online project management software to deal with uncertainties in the estimates of the duration of each task; arrange tasks to meet various deadlines; and juggle multiple projects simultaneously, as part of an overall objective.
The top 5 project management tools for project teams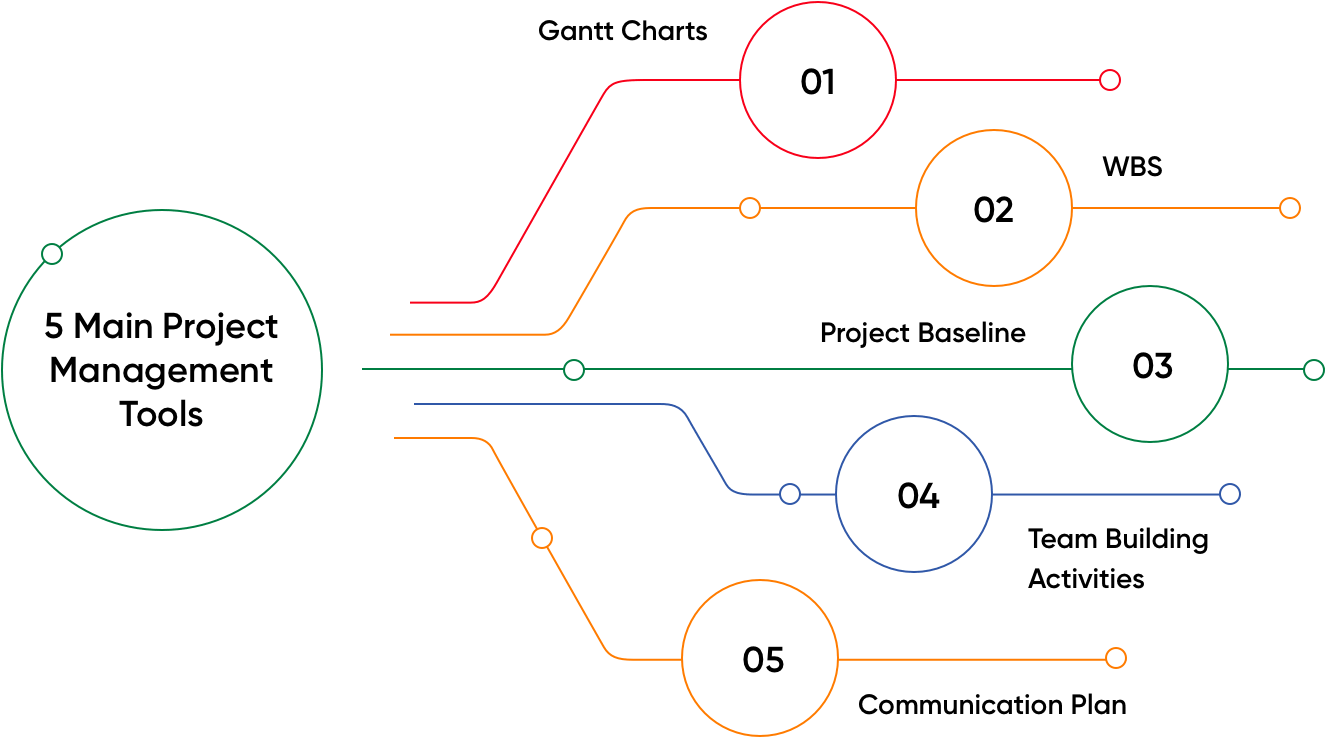 01. Gantt Charts
Gantt chart is one of the top project management tools. A Gantt chart is a visualization of your project timeline and the dependencies between your various work items.
Gantt charts are helpful in keeping track of the project schedule, checking for any deviations from the project plan and identifying delays. Businesses can stay on track of their planned schedule and budget with the help of Gantt charts. And if things don't go as planned, Gantt charts help in identifying the critical tasks that will ensure your project gets completed on time.
In project management, Gantt charts are an important tool in planning. It provides a complete picture of the work breakdown structure and aids in allocating resources efficiently, be it time, money or human resources. It maps the inter-dependencies between the different work items, helps in prioritizing the critical tasks and reducing scope creep.
Gantt charts in Zoho Projects are an intuitive, easy-to-use tool that makes your planning and scheduling easier. Simple drag-and-drop interface to adjust your timeline, 4 types of dependencies, critical path, baseline, chart scaling and task management capabilities within the chart makes for an indispensable tool. And the best part? It's available even in our free plan! Check out more information about the Gantt chart features in our various pricing plans here.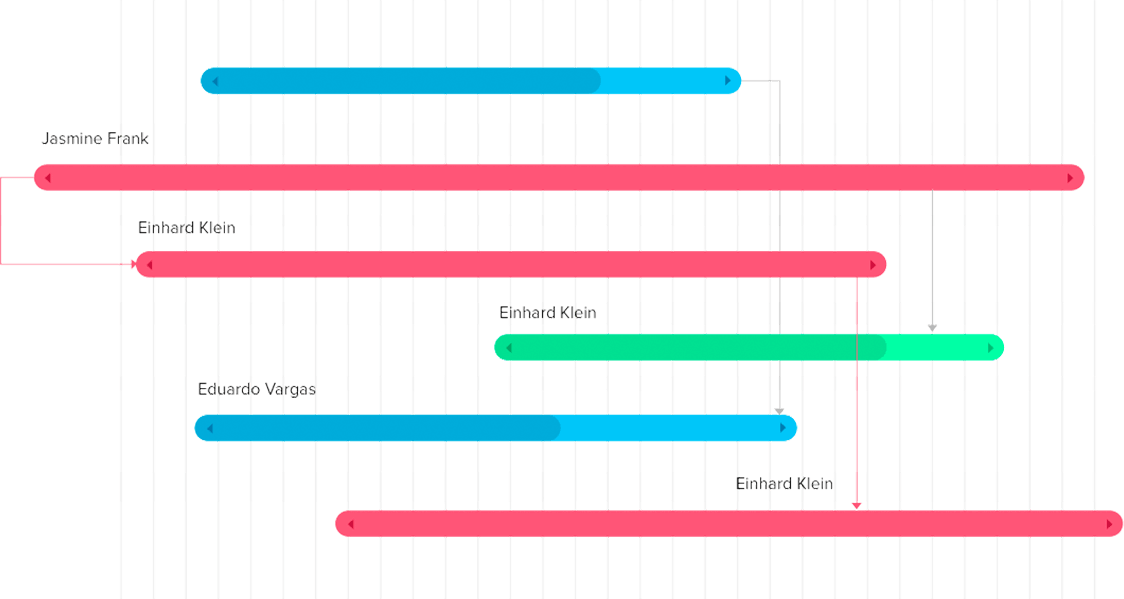 02. Work Breakdown Structure
The Work Breakdown Structure is the first and most important tool in project planning. It's a hierarchical breakdown of your project goal into actionable work items.
WBS follows a hierarchy where your end goal is split into stages that can be further divided into tasks or sub-tasks. This helps in planning every single aspect of your project without leaving anything to chance. The breakdown gives clarity on the time and resources that would be needed and hence helps in setting the planned constraints for a project.
WBS helps not only in planning but also in the execution phase of your project. Work is executed in parts that make up a whole. Managing these parts is easier not only in terms of tracking the work but also in case of setbacks.
Create a WBS in Zoho Projects with its hierarchy of milestones, task lists, tasks and sub tasks. With customizable settings, multiple views, templates, reminders and recurrence, it takes no time at all to set up your project using our task management features.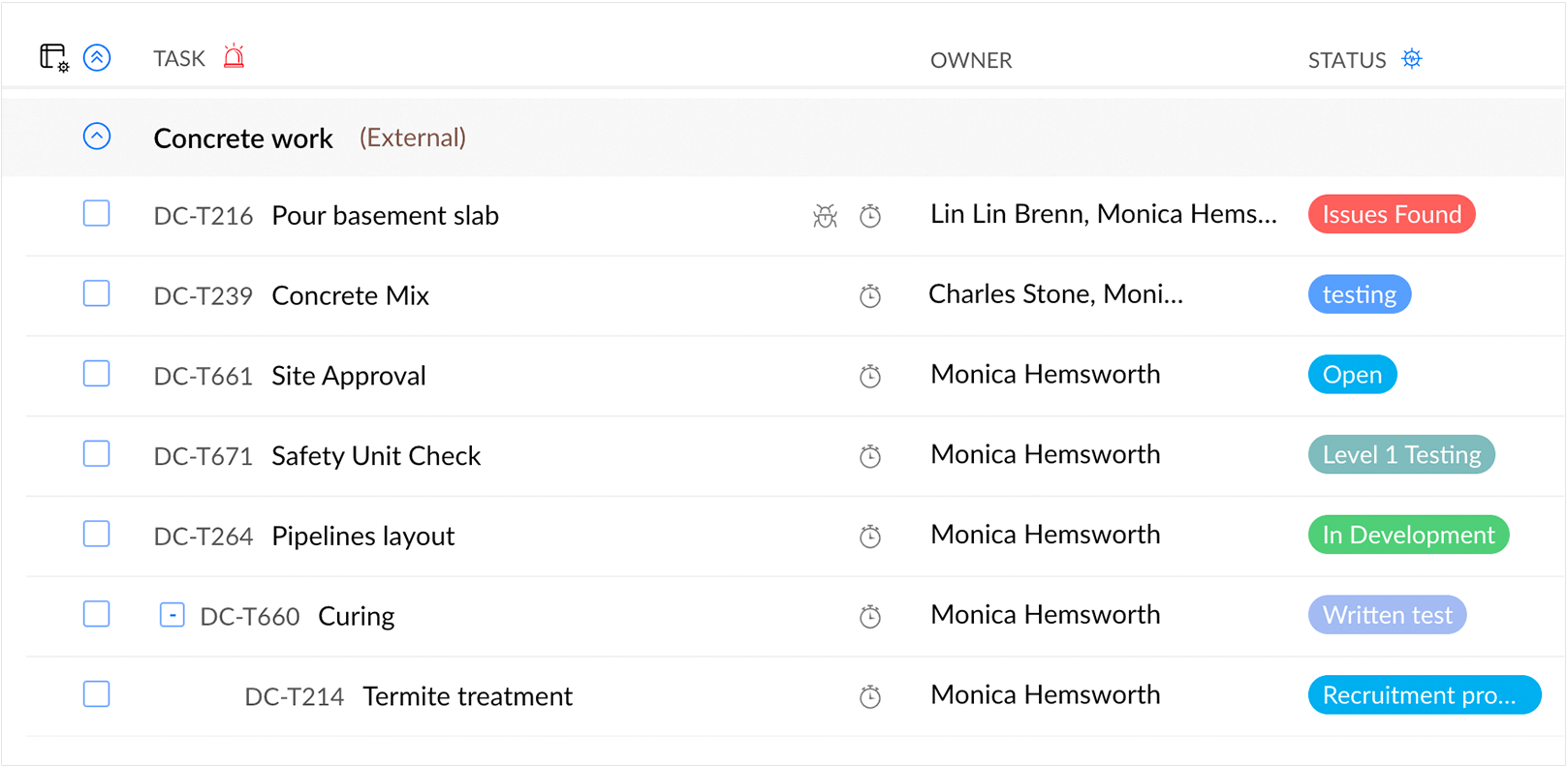 03. Project Baseline
A project baseline is a graphical way of representing your project values by comparing the baseline which is the standard you set for your project against your actual performance.
The project baseline is a project management tool that encompasses the scope baseline, cost baseline, and schedule baseline. Your baseline helps in tracking your real-time progress. It can also help avoid scope creep by keeping the unplanned work in check.
Unplanned work is a major factor that can affect your project's cost, time, and scope. It causes a domino effect. Firstly, there's a risk that the project has gone out of scope by including this extra work. Even if not, the time and cost of the project will have increased. If you don't want to compromise those constraints, the quality of your project will have to take a back seat.
Measure your performance by comparing the real-time progress with the baseline set in Zoho Projects' Gantt chart. Easy to set and analyze, the baseline in Zoho Projects works in conjunction with slack to track the time lost.

04. Team Building Activities
Team building activities are a way to improve morale and boost the productivity of your teams by conducting activities or healthy competitions. From group surfing lessons to team pot luck, there's a wide range of fun activities you can use as part of corporate team building.
The connection between team building and PM tools may not be obvious. But the relationships between the team, as well as with the stakeholders, are as important to a project as planning or execution. And this is an easy way to strengthen these relationships.
Team building activities may include encouraging competitions conducted in a controlled environment to disrupt the rat race that's often part of everyday workplace culture. It can also encourage creativity, highlight your team members' various talents, and motivates people to work together to find the best solutions.
05. Communications management plan
A project communication plan is a tool that ensures there's a regular, relevant flow of information between the project members, clients, and other stakeholders. The plan includes details regarding who communicates what, to whom and how often.
This project management tool ensures everyone involved is kept in the loop, and it helps maintain relationships. There's the obvious benefit of keeping your stakeholders in the loop, since satisfying their needs is an integral part of a project's success. A communication plan will help tackle any risks that may arise and improve collaboration among the members of your team.
Nail down your communication plan to the dot with the extensive collaboration features of Zoho Projects. From the Discuss module with its in-built chat, virtual calls and meeting capabilities to the social Feed to discuss ideas, feedback and media, Zoho Projects has you covered with all means of communication.