Introduction
Customer support agents are your brand's first line of contact with its customers. The interactions your customers have with your agents shape your brand's image. This image creates in your customers' minds a persona that's regarded even above the quality of the product that you offer. It is how customers will perceive you, and what they will use to describe your brand to others. When your support agents are helpful, friendly, and efficient, customers think of those traits as aspects of your brand—vital traits that pave the way for customer loyalty.
To that effect, agents will want to be at their productive best to solve issues thoroughly and reach speedy resolutions. Anything that becomes a deterrent to agent productivity is harmful for your brand and customer satisfaction.
Using Zoho Desk, you can redefine productivity, empowering your agents to provide faster and better customer service. Here's how.
Introduce Self-Service
When your agents are busy solving frequent and simple issues, they have less time to focus on critical, higher priority issues at hand. If this is a problem that you can relate to, shifting towards self-service is the most viable solution. Helping customers find solutions and quick fixes for common issues is a step in the right direction for more reasons than one:
Your agents are relieved. Each issue that a customer solves by themselves is one less ticket for an agent to work on. The amount of time you save through investing in self-service compounds over time, allowing your team to focus on issues that really need their time.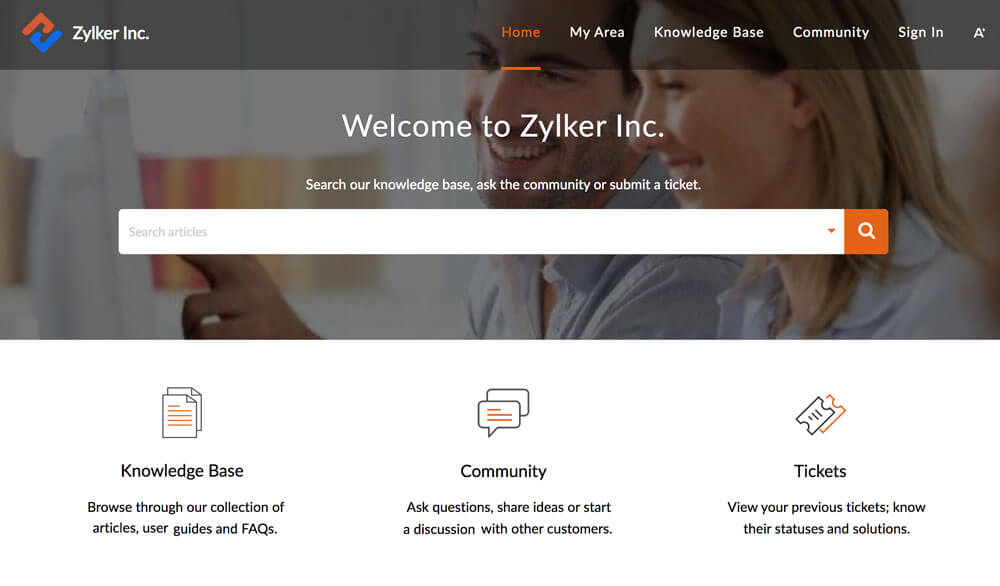 Your customers feel empowered. It's a wonderful feeling when we can fix something on our own without having to ask for help. It's natural for a customer to try to solve the issue by themselves before reaching out to an agent for assistance. With a dedicated Help Center and a thriving user community, customers can find answers on their own and discuss solutions with peers about bottlenecks they face and implement solutions themselves. 

Your agents are better equipped. Making solutions easily accessible for your agents is paramount for ensuring smooth-sailing customer interactions. Even in the case of customers who prefer asking agents for support, having a self-service setup is beneficial because it makes the agent's life easier. Zoho Desk keeps your resources close at hand when replying to customers, so you do not have to keep them waiting for answers.
Refine Ticket Assignment
When ticket volumes are high, it's easy to lose track of critical tickets that need immediate attention. It gets hard to use your best judgment and pick out the right ticket to work on first as the numbers grow. 
The first step in triaging high priority tickets is to assign them to agents with zero delay. You can do so by creating smart assignment rules that assign high priority tickets to support specialists automatically. This keeps your support in line with your SLAs, and gives your agents ample time to understand the issue and respond. 
Refine the process further by efficiently organizing your tickets. With Work Modes, you can contextually sort tickets to fit the need of the hour. Agents can save time, making faster and better choices while choosing their next ticket. 
Once your tickets are neatly sorted, Zia's Sentiment Analysis helps you narrow down your focus even further. Zia goes through your ticket and marks it with a positive or negative sentiment rating, based on your customer's message. This helps you define an order for even your critical tickets: if it has a negative sentiment, you can get straight to working on the issue without losing valuable time. 
Equip Agents with Context
Context is everything. The right information at your disposal sets the course for smoother customer conversations. It is vital that your agents have context that is not just relevant but also actionable. Zoho Desk is built to give you just that—with all strands of customer information weaved together to provide your agents with the right information at the right time.
In the ticket window, you can see a detailed timeline of the customer's ticket history. The timeline shows a list of tickets the customer has raised and when, displayed neatly and chronologically. With an understanding of the customer's previous tickets, your agents get a better idea of why they are facing the current issue. 
Additionally, Zoho Desk provides a variety of extensions that add pieces of relevant context at different touchpoints. You can connect tickets to interactions the customer has had with other parts of your business, and retrieve the bug reports they've filed, along with useful transactional and inventorial information. Zoho Desk covers all your bases to give you a complete overview and control of customer context.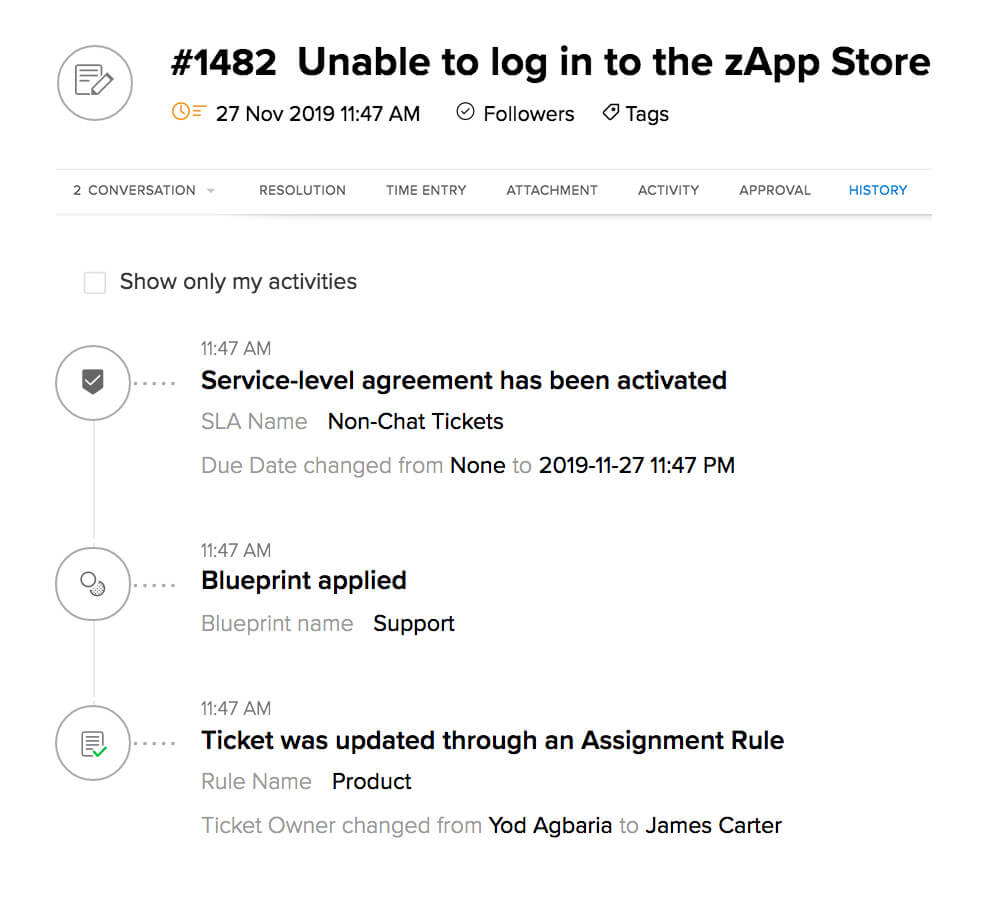 Create Well-Defined
Processes
An agent's process to see a ticket through to closure is simple... until it isn't. Agents can only create meaningful results when they know the right direction to work towards. Zoho Desk aids hyphenate decision-makers in guiding their support teams in the right direction.
Simple bottlenecks can disrupt your agents' pace while answering tickets and leave them in the dark about what's next. Blueprint from Zoho Desk provides the framework for you to create elaborate process structures to improve process adherence, and follow them easily.
You can create Blueprints for various scenarios by defining the transitions to follow at each stage. Any margin for error is reduced by ensuring that each step in the pipeline is seen through to completion.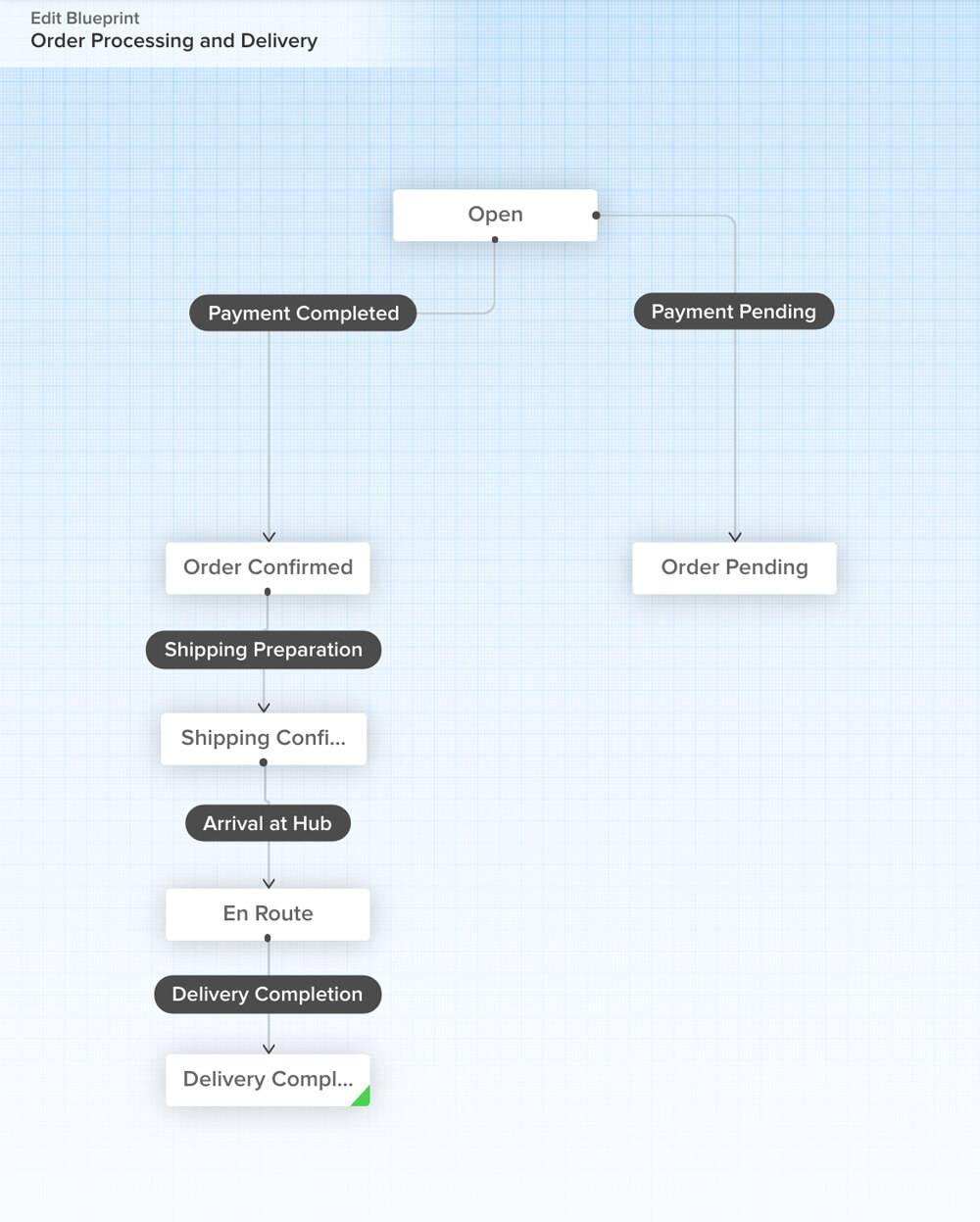 Put Tools to Good Use
Any job gets a lot easier with the right set of tools at your disposal, and this is true for your agents as well. Small actions that an agent has to do chip away at their productivity and regularly add up to the time it takes to close a ticket. A set of useful functions that are easy to perform and execute can clear out redundant elements and make an agent's work of closing tickets easier.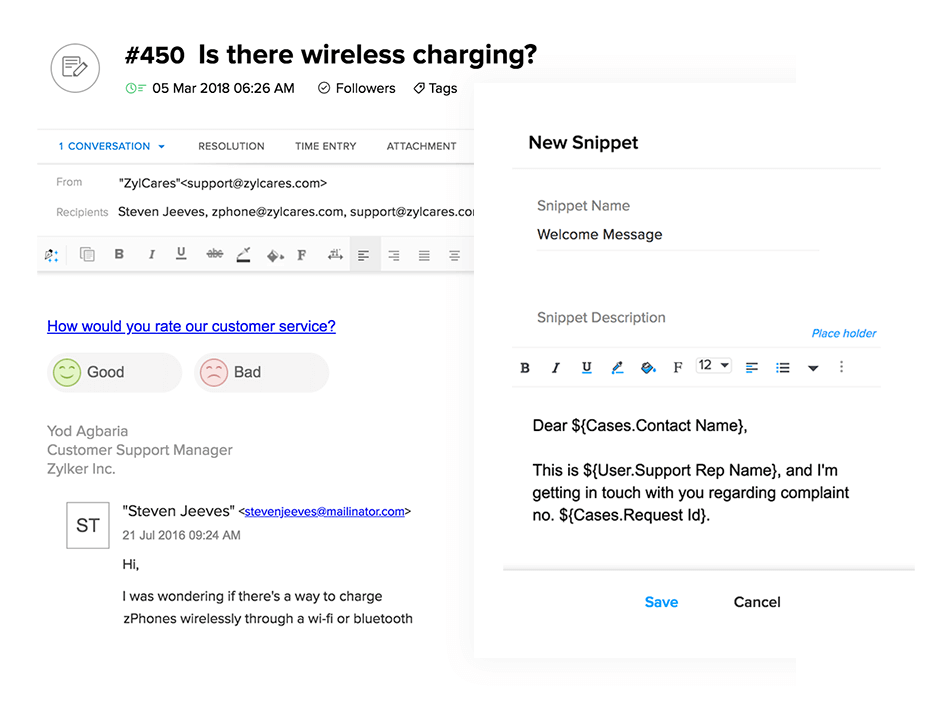 Agents can create Custom Views to decide what type of tickets they would like to see. They can then further prioritize by using Work Modes to classify the tickets within the view based on SLA or ticket priority. 
From the Ticket Window, you can use a multitude of keyboard shortcuts to navigate to different modules and sections in Zoho Desk. These keyboard shortcuts allow you to move directly to another module and quickly add tickets, contacts, and other activities with just a couple of keystrokes. Once they zero in on a ticket, the agent can use Custom Snippets to fill in their frequently used responses while composing email replies. 
Collaborate Freely
Your support team can only perform at its best when its team members are all working together in harmony. Collaboration makes resolving a ticket easier, just by bringing a few more heads together for help. However, working with departments across different locations creates space for delays and confusion. With Zoho Desk, your team's collaboration becomes more fluid, helping them provide solutions that are fast and actionable.
When your tickets call for expertise from different departments, ticket sharing streamlines the collaboration process. As the feature's name suggests, all you need to do is simply share a ticket with other departments to get their help on it. You can choose how much access other departments have to the ticket, reducing back and forth for permissions. A separate View for Shared Tickets is also created, for agents to easily keep track of the tickets that they are collaborating on.
Some tickets require approval from decision makers, and some require scheduling with other team members. With Zoho Desk, you can get on top of these activities without leaving your ticket window. If you need your manager to approve a full refund for your customer, you can simply use the Approvals tab to submit the request. The Tasks tab lets you create tasks like scheduled call-backs for other team members to follow up with a customer and close the ticket.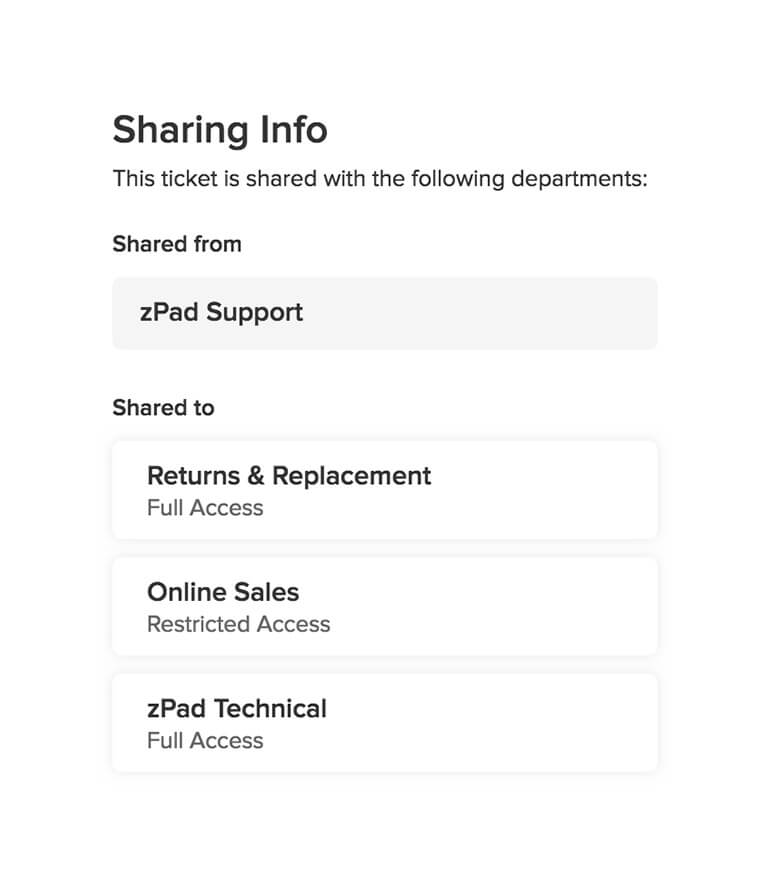 Automate the Grunt Work
There is more room for productivity when menial tasks are moved out of the way. Through smart automations, Zoho Desk takes care of the simpler activities, so you can focus on the tasks that really need your attention.
Whenever there is progress on a ticket, different stakeholders need to be notified. This is true for other agents who get their cue to work on the ticket or customers who like to be kept in the loop. You can create Notification Rules with predefined conditions to trigger notifications to the respective agents and customers when the criteria are met.
Automations can also be useful when you have inactive tickets from customers you haven't heard back from. You can let Zoho Desk automatically close them instead of manually closing them yourself one by one. By creating a workflow with a defined time limit, tickets where the customer has not responded will be closed automatically after the time limit is crossed.
If you have agents who are paid by the time they spend working on tickets, it's difficult to track their billable hours manually. Zoho Desk offers automatic time logging to accurately track how long your agents have been working on their tickets. The timer runs once the ticket is opened and stops once an agent leaves the ticket.
Automations also help managers proactively handle escalated tickets more efficiently, especially when business is busier than usual. Using Escalate, crucial tickets can be automatically escalated to the manager's attention right away. With the SLA Violated Tickets View, the manager can access and assign time-sensitive tickets to get them resolved.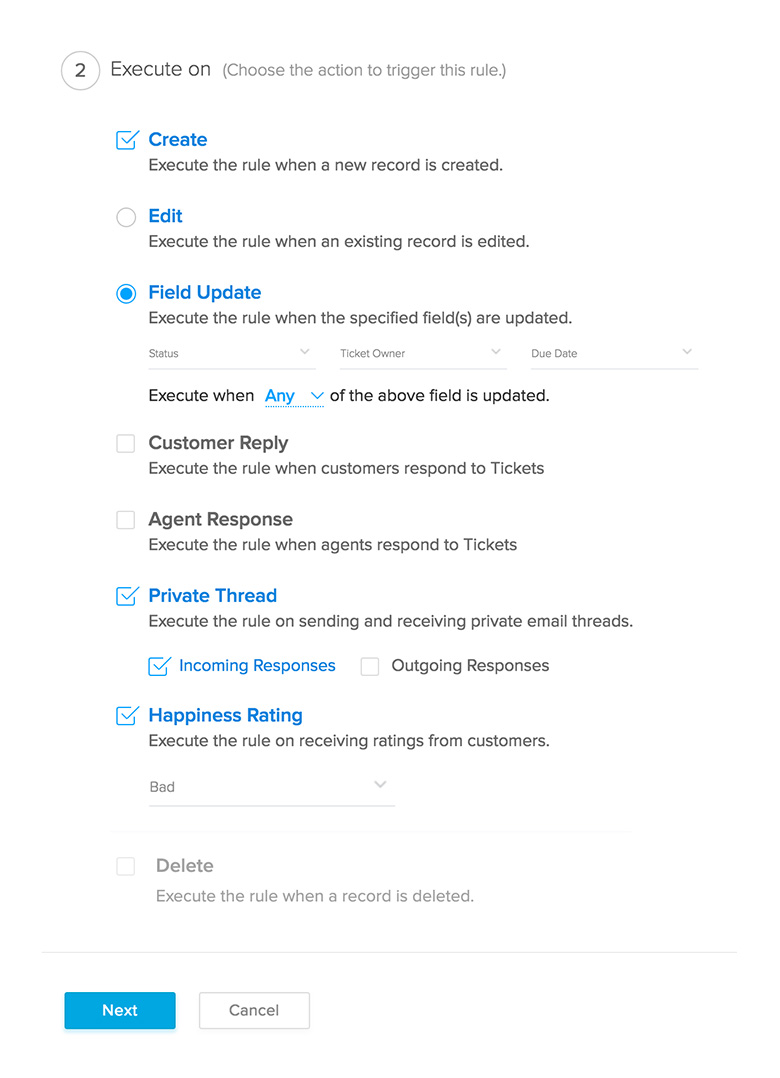 Close Loops Effectively
There are actions that you need to do outside the ticket, in order to cover all your bases. They usually involve calling, following up, and periodically getting feedback. These actions complement and go alongside replying to customers. Keeping track of them, however, can be tricky. Zoho Desk helps keep your feedback loop consolidated, transparent, and free-flowing.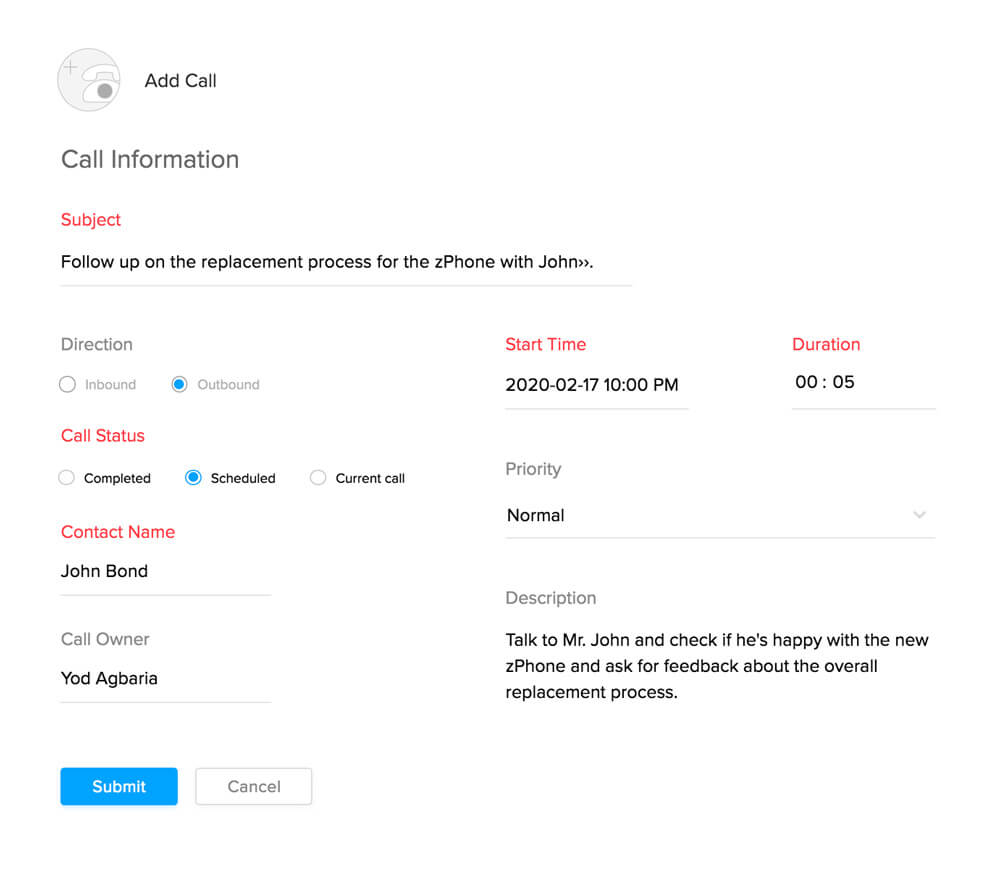 In some cases, there will be instances where you need to follow up with a customer, even after the ticket is closed. There is room for confusion and miscommunication when different teams are involved in this process. Zoho Desk keeps your task flow simple, enabling you to create activities and follow up on them with ease. When you need to schedule a call-back or a task, you can create them from within the ticket window. You can create tasks and assign them to stakeholders from other teams more easily than ever. The Activities Module moves a step further and organizes your tasks with an intuitive layout, similar to your ticket window. 
If your agents close tickets with issues they find to be unique, they can use the Resolutions tab to add a solution for the issue. When another agent gets a similar ticket, they won't have to solve the same problem all over again. When a similar ticket pops up, the next agent saves time not having to solve the same problem again.