Introduction
It doesn't matter whether your business is big or small, customers expect prompt support, and rightly so. But when your customers are distributed across borders, this can throw your support team a challenge or two. Providing timely and contextual support becomes difficult when time zones don't match.
One of the best solutions companies invest in today, is to build a self-service operation. Self-service helps you put help in the hands of your customers and support them even when your agents are away. Zoho Desk gives you the tools to build an expansive knowledge base, nurture a community of users, and use AI to stand in for your support agents. This playbook delves deep into how you, as a support leader can build a 24/7 support operation without a global team.
Analysis Before Action
56% of people around the world have stopped doing business with a company because of a poor customer service experience. (Microsoft)
Before you venture into building a 24/7 support operation, look at key support metrics that give you a sense of what's working and what isn't. Zoho Desk's Headquarters is designed to provide live, actionable insights about your support operation. The dashboard makes complex data easy to comprehend and can help you identify bottlenecks quickly. Here are some metrics you can look at:
Compare ticket volumes via multiple channels to understand how your customers are communicating with you. If a particular channel stands out, you can assign more agents to that channel.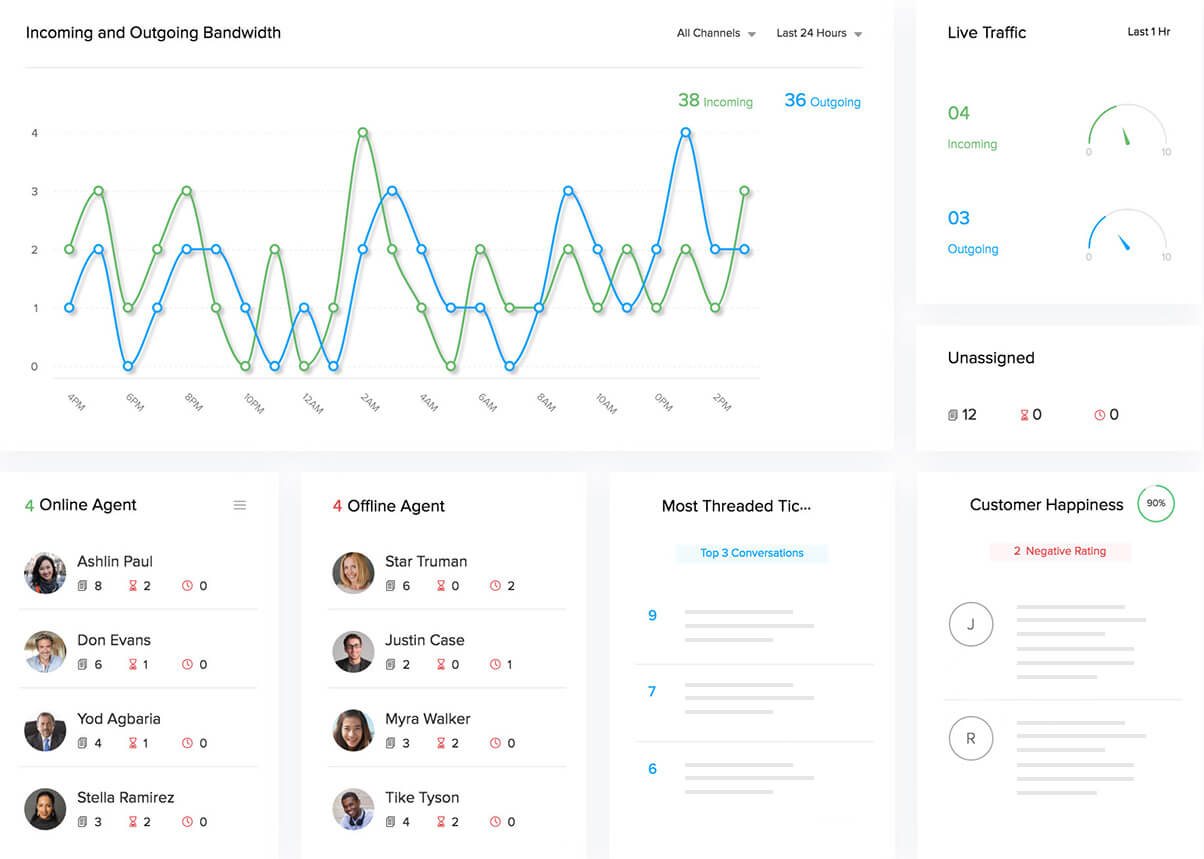 Analyze ticket traffic on a 24 hour timeline to get a sense of when your customers are most active. Figure out how many of those tickets came in after your agents left for the day. Staff your team appropriately for each time-zone.

Look into the type of tickets you receive on a day-to-day basis. Determine how many of those could have been answered with a set of FAQs, and how many required technical assistance. Keep an eye out for trends that will help you develop contextual content for your knowledge base articles.

Are your customers communicating in a language that your agents know? This could be a potential bottleneck that creates unnecessary delays and confusion among agents. Zoho Desk integrates with translation partners such as Unbabel and Google Translate to provide contextual translation for your support team.
Unfortunate delays in customer service can be caused by multiple reasons, not all of which may be in your control. But ultimately, they lead to negative customer experiences that your customers are likely to remember. Avoid them by analysing the way your business works. It'll also help you kick-start the process of building a self-service operation.
Knowledge
Consolidated
Of all self-service channels, customers make the most frequent use of knowledge bases. Forrester
Creating an informative knowledge base (KB) lies at the heart of any self-service operation. An effective KB makes the right information available to your customers in an organized manner, giving them the tools to find solutions quickly. This makes it easy to deliver 24/7 help and reduces the stress on your support teams.
A quick glance at recent tickets will help you identify topics that your customers frequently ask about. Write informative articles that cover frequently asked questions across multiple topics. Continuously adding to this repository of articles will help you build an informative knowledge base your customers can access.
Zoho Desk lets you structure your articles topic-wise into categories, such as Onboarding, Known Issues, Returns and Refunds, and so on. This makes it easy for users to navigate the Help Center. Using widgets, you can display announcements, most-discussed topics, and promote recent articles.
In the long run, building a culture of self-service is beneficial to both your customers and your business. An informative KB will not only stand in for your support team when they are unavailable, but also encourage users to engage in self-service on priority. It simplifies the support process and creates meaningful support experiences.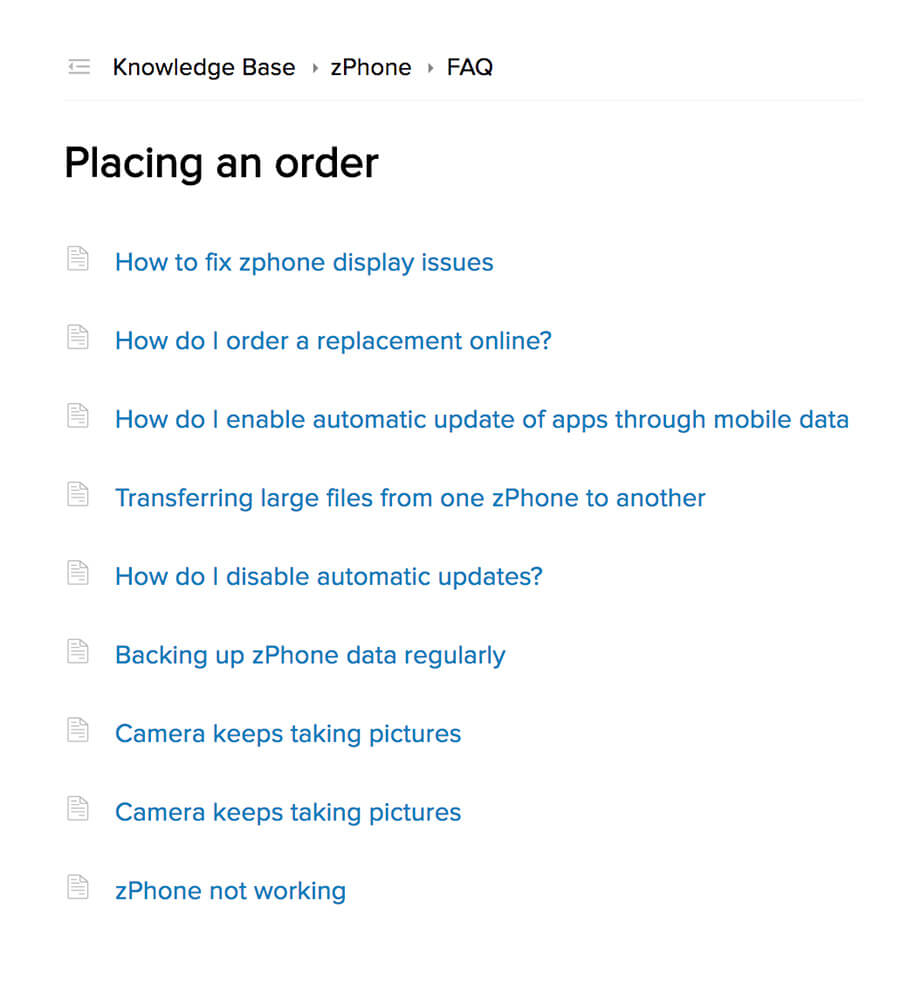 Save Effort, Save Time
90% of customers rate an "immediate" response as important or very important when they have a customer service question. 60% of customers define "immediate" as 10 minutes or less. (HubSpot Research)
Timing and context are integral to the customer service process. Without them, you're likely to send delayed responses that don't end up helping your customers in any way. In order to stay two steps ahead of your customers at all times, identify when your customers are likely to have the most number of questions. This is likely to be:
While learning about your product from a website, or

While interacting with the product itself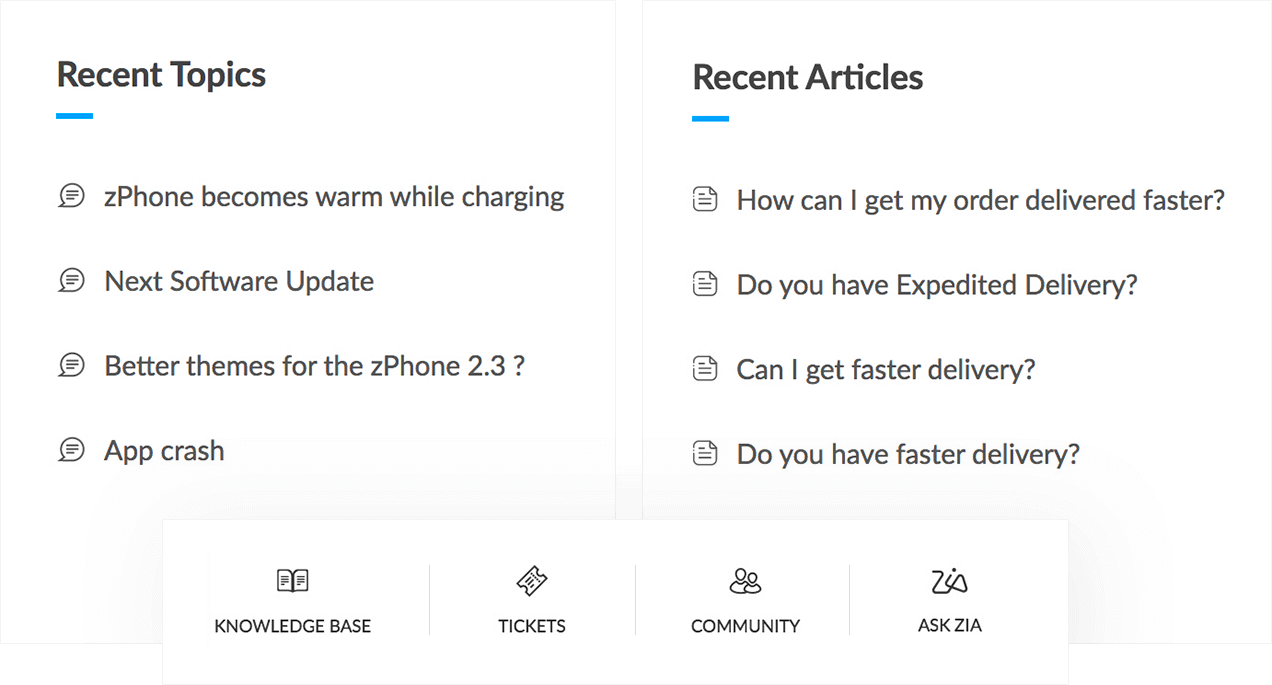 Zoho Desk helps you cover your bases with ASAP, a set of tools that puts contextual help within easy reach of your customers. Designed as a clickable widget, ASAP can be embedded in your website, mobile app and product. It brings your help center to your customers, instead of re-routing them to your help center. Users can surf your knowledge base, interact with a community of experts, or raise a ticket if they can't find a solution to their problem. All this without leaving your page or app.
Whether it's giving your customers context to understand a product in greater detail, or helping them solve a specific product-related problem, you can deliver contextual help every step of the way. The ASAP Extension for Google Chrome helps you build a guided tour on your website or within your product. It saves your team time and effort and helps your customers adapt to the product easily.
More Than Just Live Chat
Millennials prefer live chat for customer service over every other communication channel. (Comm100)
Live chat is one of the fastest and most effective ways to solve customer problems. It cuts out on unnecessary delays and adds a personal touch to every conversation. But not all businesses can afford to have a dedicated team available to support customers over chat, 24/7. Zia, Zoho Desk's AI for support, combines the best of personalized chat and contextual help to stand in for agents even when they are away.
Embed Zia's conversation assistant on your website, mobile app, or SaaS app, so customers can chat or speak with Zia. Based on the questions asked, Zia identifies relevant knowledge base articles and suggests them over chat. Your customers or website visitors can then rate Zia based on how satisfactory they found the answer to be. This encourages Zia to learn and provide more accurate answers with each interaction.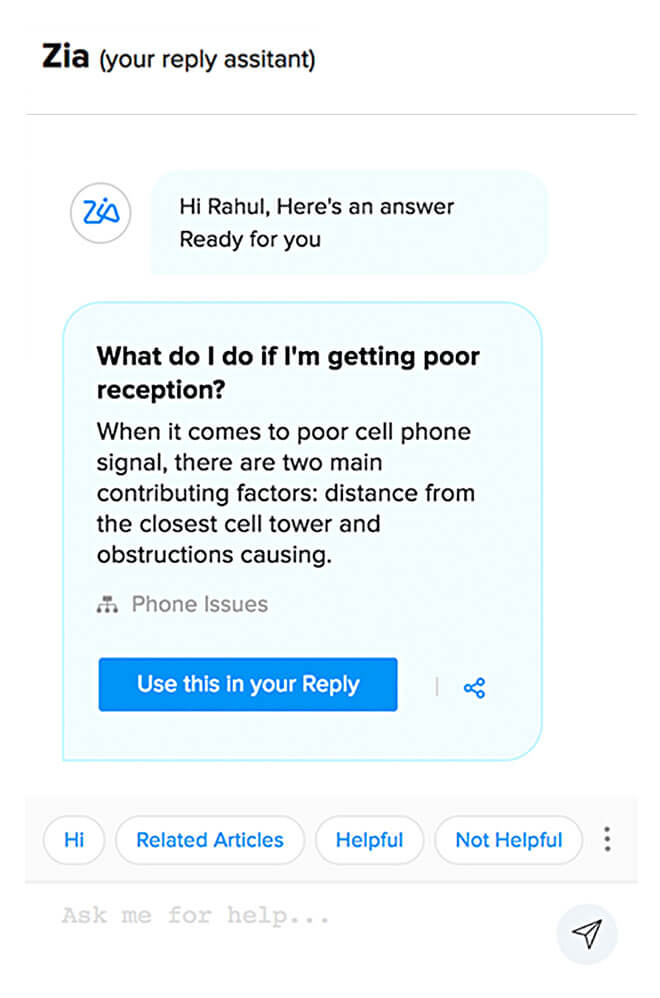 Discussions Done Right
Customers can be your loudest cheerleader but also your worst critic. Who's to say you can't learn from both?
Nurturing a community of users, product enthusiasts and prospects goes a long way in building your brand. A successful community complements your business by creating a space for active discussion about your product. It also builds trust among your users about your brand and the support your team provides.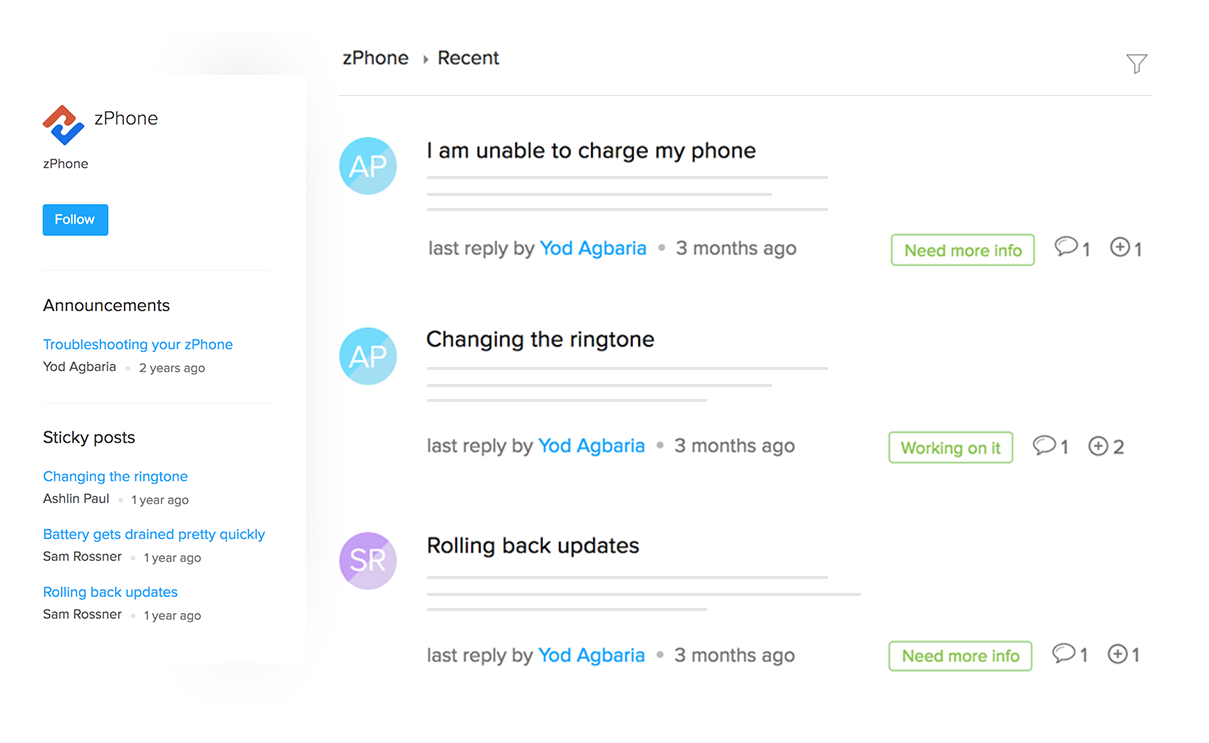 The community is a great space for customers to post product-related questions or hacks. You'll find that many of them are happy to help each other out and even suggest a number of thoughtful improvements to you. Agents can monitor the community for recurring problems, feature requests or bugs, and flag them with the product team instantly.
Keep your users up-to-date about all product improvements and feature updates on this space. You can post feature announcements, host 'Ask The Expert' sessions, or start a community learning series. These initiatives keep your users involved with your product as you grow.
Top contributors within your community can be awarded Most Valuable Participant (MVP) badges to help them stand out among their peers. They become the go-to product experts for newer participants in the community. Apart from retaining your current users, nurturing a community can inspire a host of new users to try your product. Invest early and continuously build a powerful community of your customers and users.
Revisit, Revise, Refine
Come full circle and analyze how successful your self-service operation really is.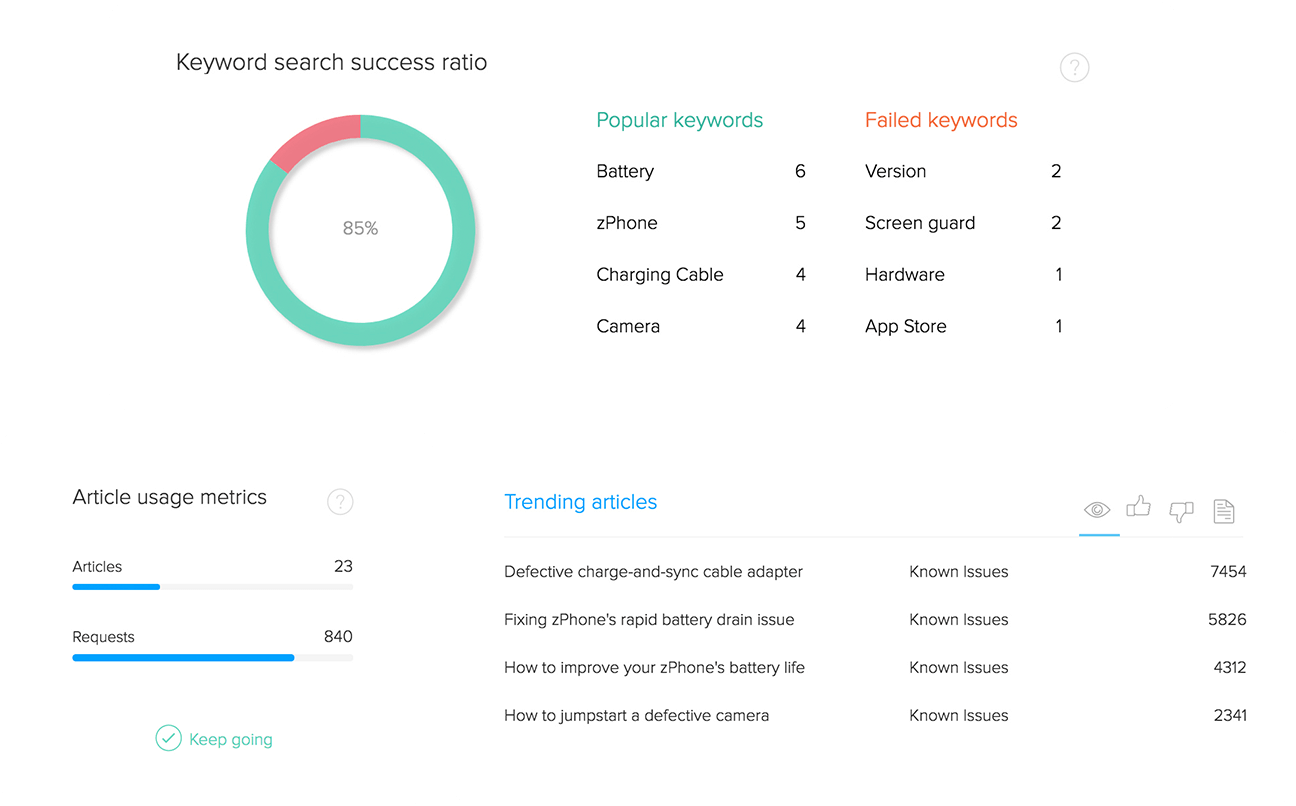 The Solutions Dashboard displays key metrics that illustrate how customers have interacted with your knowledge base articles. It tracks user behaviour across a variety of parameters, such as number of views per article, type of responses, keyword search volumes and feature requests. It also analyzes article effectiveness, scoring each article based on a combination of the parameters listed above.
Support leaders can use these metrics to analyze shortcomings in their self-service operation and strengthen it further. Once you know the type of content your users are looking for, invest in creating knowledge base articles that are engaging and informative. Write more content and repeat this process to further enrich your knowledge base.