Create online dashboards easily with business dashboard software
Visualize and analyze your data with dashboards. Create insightful business dashboards with our drag-and-drop business dashboard tool to track your key performance indicators (KPIs), and share them with your colleagues for easier data analysis and collaboration.
Sign up in less than 60 seconds
Track key metrics with insightful business dashboards
Make use of a variety of charts, widgets, pivot, summary and tabular views to create insightful KPI reports and dashboards.
Drag-and-drop interface
Build powerful business analytics dashboards in a flash with our easy drag-and-drop interface. No IT help required!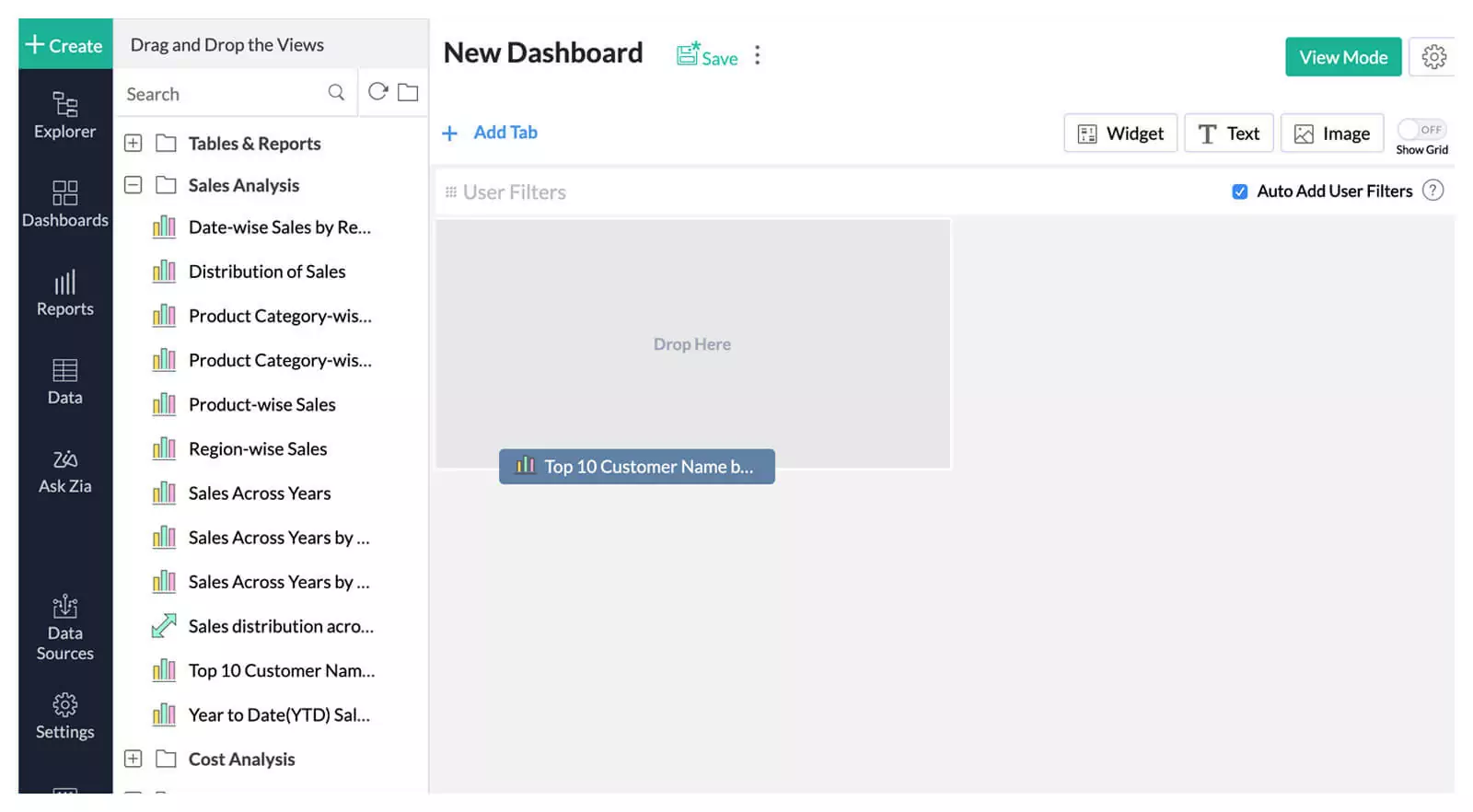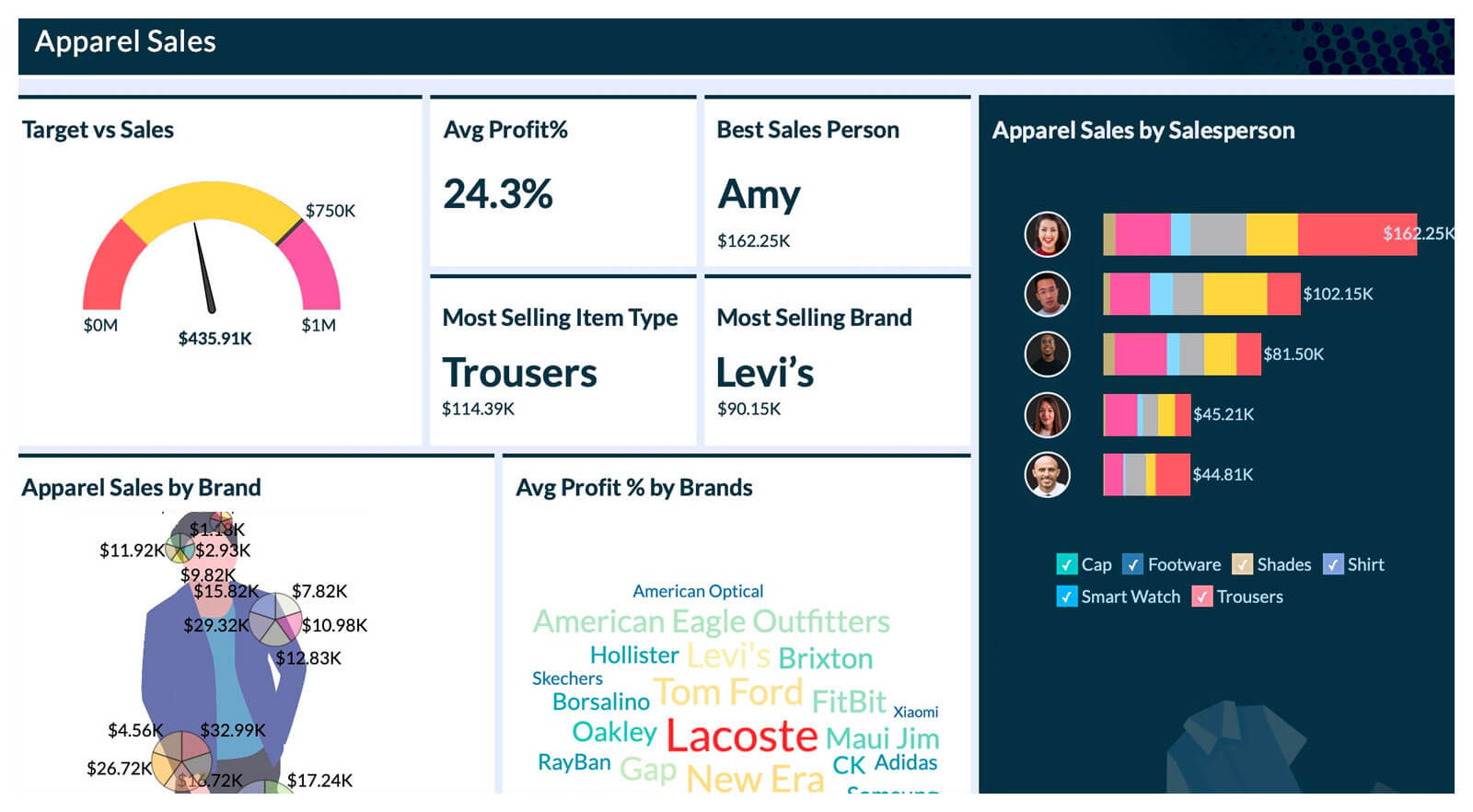 Wide range of reporting components
Use a variety of charts, pivot tables, KPI widgets, and tabular view components to build your dashboards. Drill down into your data for the insights you need.
Share and embed
Collaborate on dashboard creation and make more informed decisions as a team, with our business dashboard software. Embed them across various online platforms for mass consumption and provide fine-grained access control.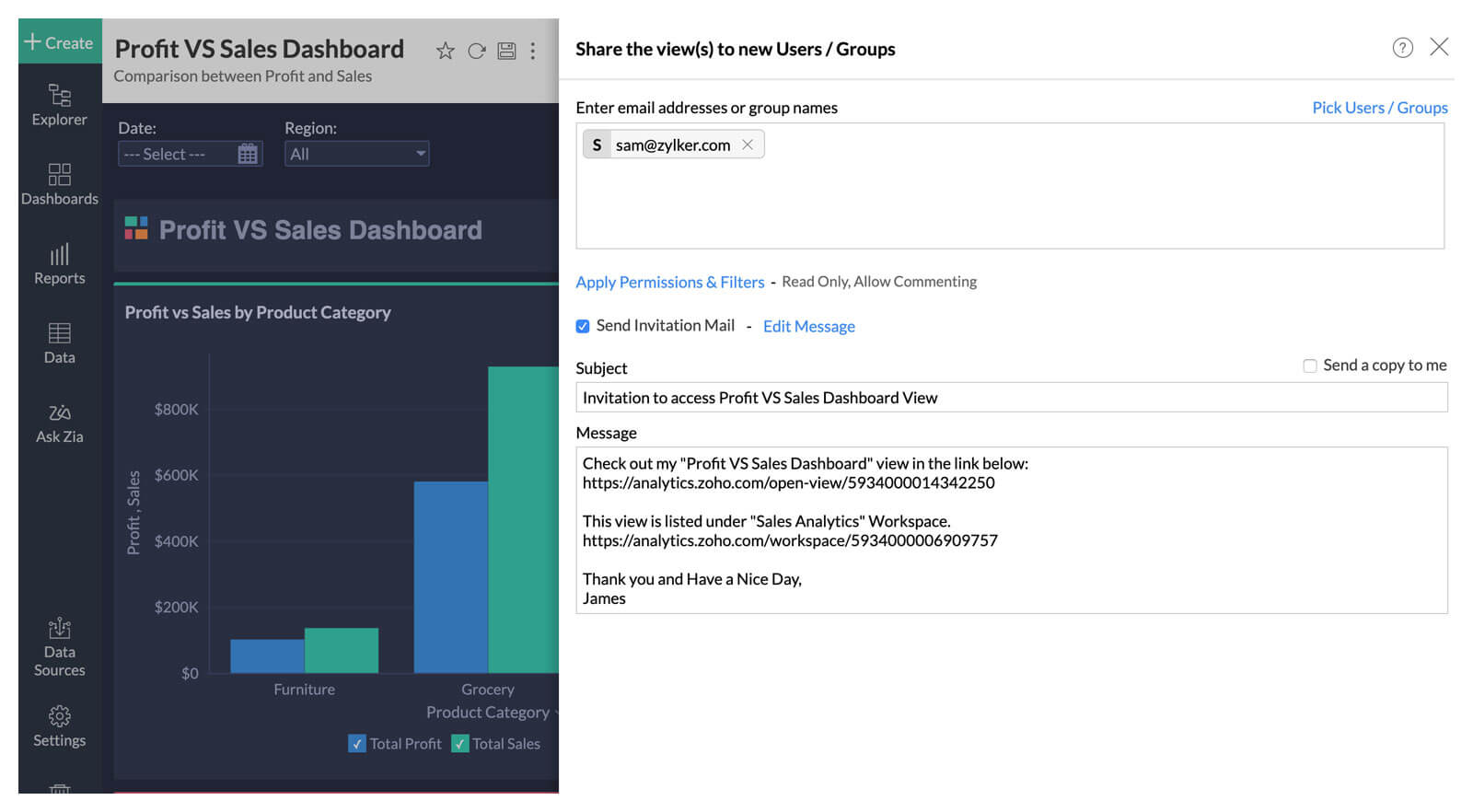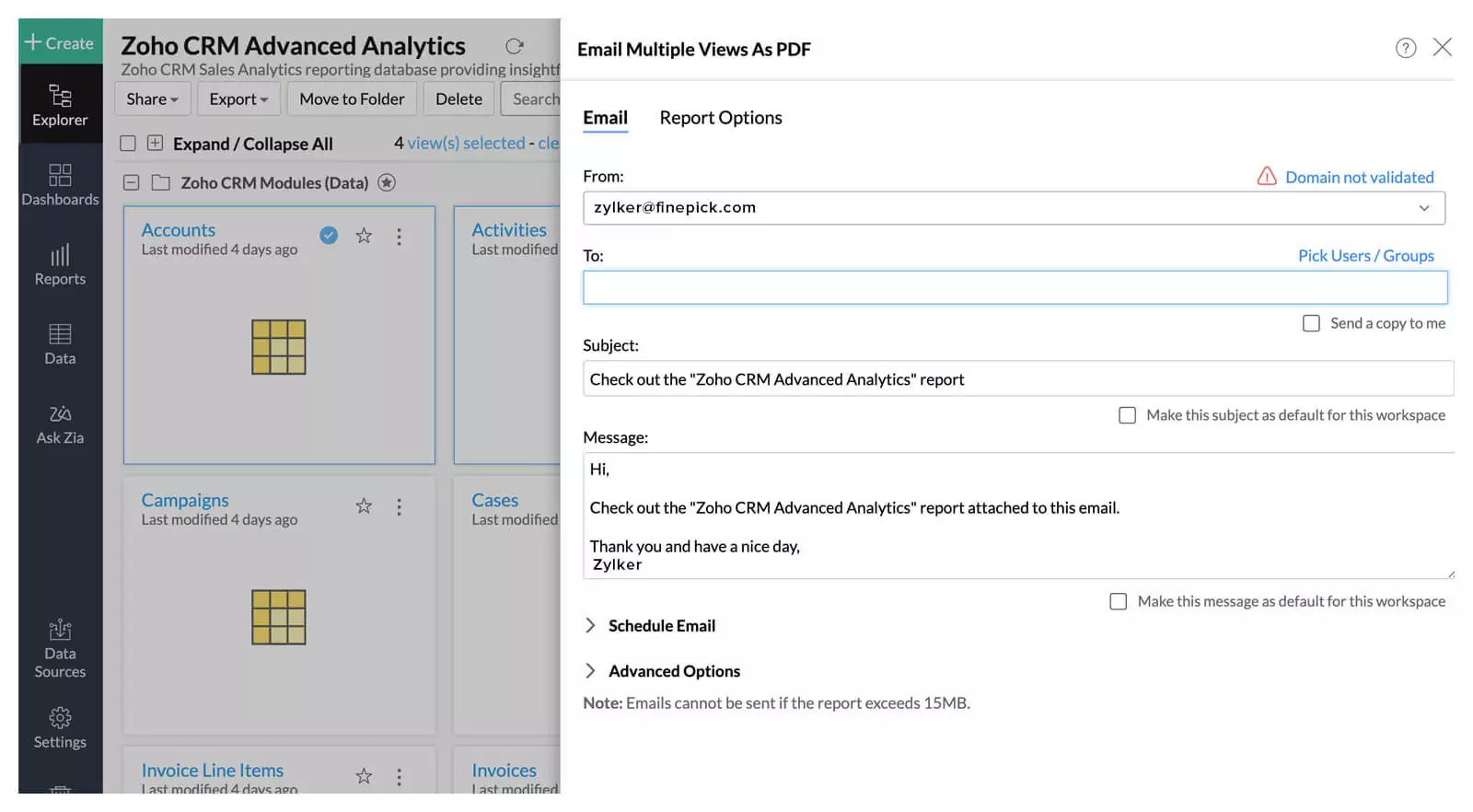 Export and email
Schedule your dashboards to be emailed automatically. Export or print dashboards using our online dashboard creator, for offline access.
Deeper analytics
Build new calculations with an intuitive formula engine that offers extensive mathematical and statistical functions.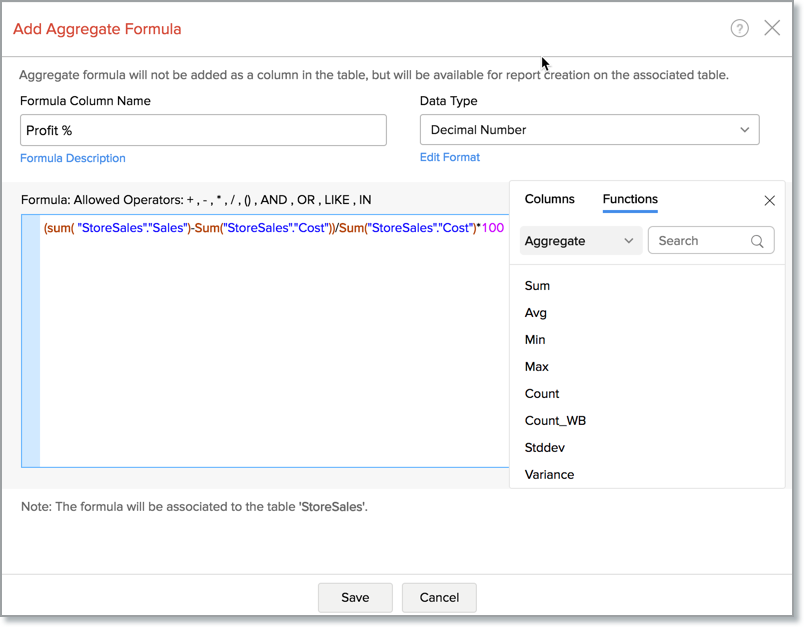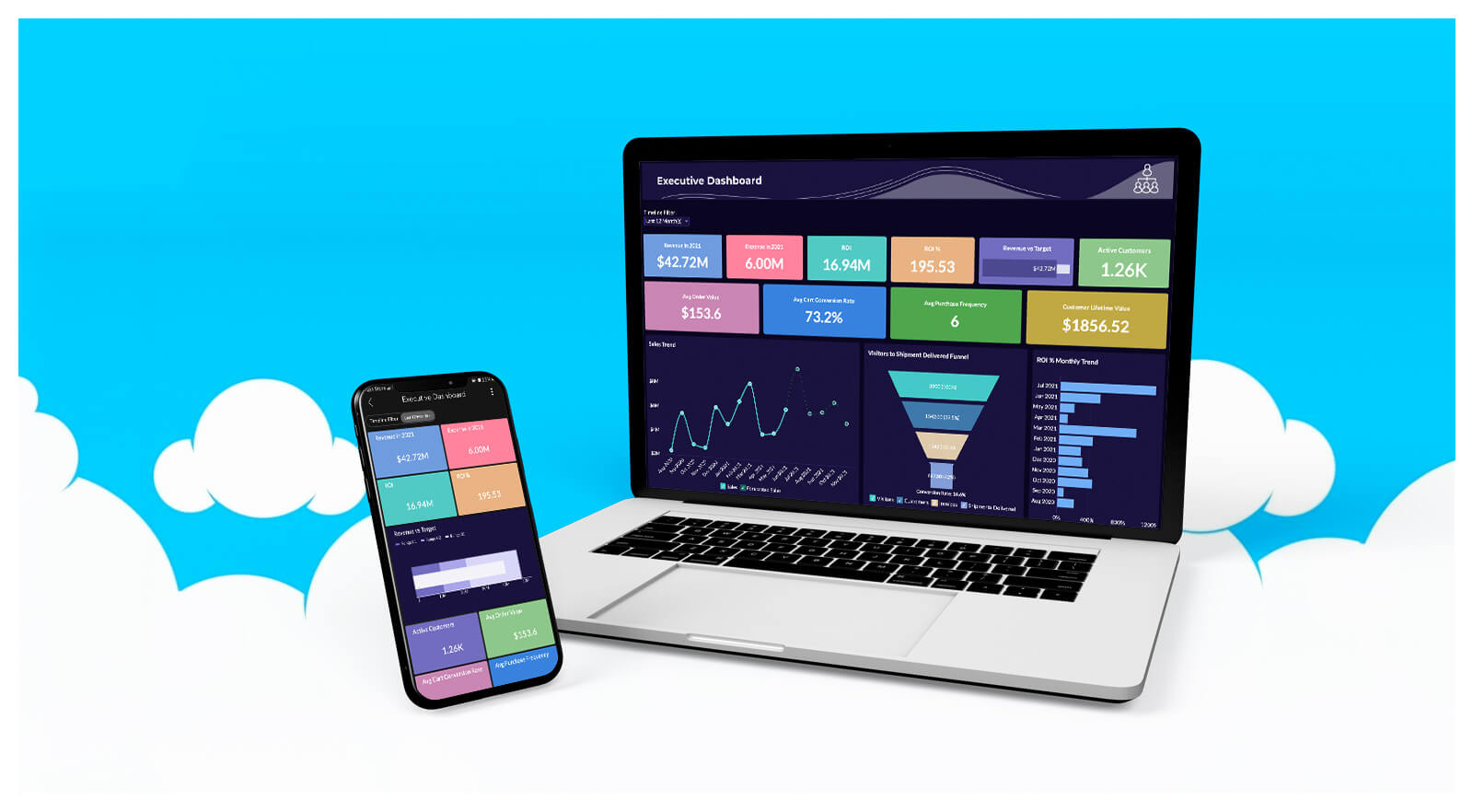 Accessible across all devices
Access the business performance dashboards you create from PCs, laptops, tablets, and mobile phones.
Business dashboard

examples
"Zoho Analytics enabled us to create KPIs with complex business logics built-in. It's easy enough but at the same time quite powerful for a marketer to use. Personally, it's my number one tool for reporting."
Louis-Dominic Parizeau
Director of Adviso
BARC - BI Survey 21
Zoho Analytics received great feedback in BARC's latest "BI Survey 21" report scoring an impressive 12 top rankings and 28 leading positions across 5 different peer groups.
Read more
Dresner Advisory's Wisdom of Crowds® Business Intelligence Market Study
Zoho Analytics is rated as an overall leader in customer experience and vendor credibility and has a perfect recommend score.
Read more
Overview of Business Dashboard
What are business dashboards?
Business dashboards help you visually analyze all your business data from one place so that you can identify how your business is performing, where should you focus more, etc. Also, business dashboards are created by combining data and reports from different sources.
What should be included in business dashboards?
Business dashboards should contain relevant KPIs and performance reports that will help you in both decision making and strategy planning. Most importantly, the business dashboards should be interactive so that you can drill down the reports.
What is the importance of business dashboards?
To any organization that relies on data to track progress and plan strategies, business intelligence is pivotal. Business dashboards are important in business intelligence as it enables business leaders to analyze and compare multiple reports and charts from one single place.
What are the best practices while creating business dashboards?
Choose an online dashboard creator that offers multiple data visualizations. Ensure your business dashboard contains all the necessary reports and provides answers to your questions. Arrange your reports logically and use appropriate colors.