Small and Medium Businesses
Zoho WorkDrive offers a secure and collaborative workspace for your business. Streamline information flow for more effective decision making.
Sign up now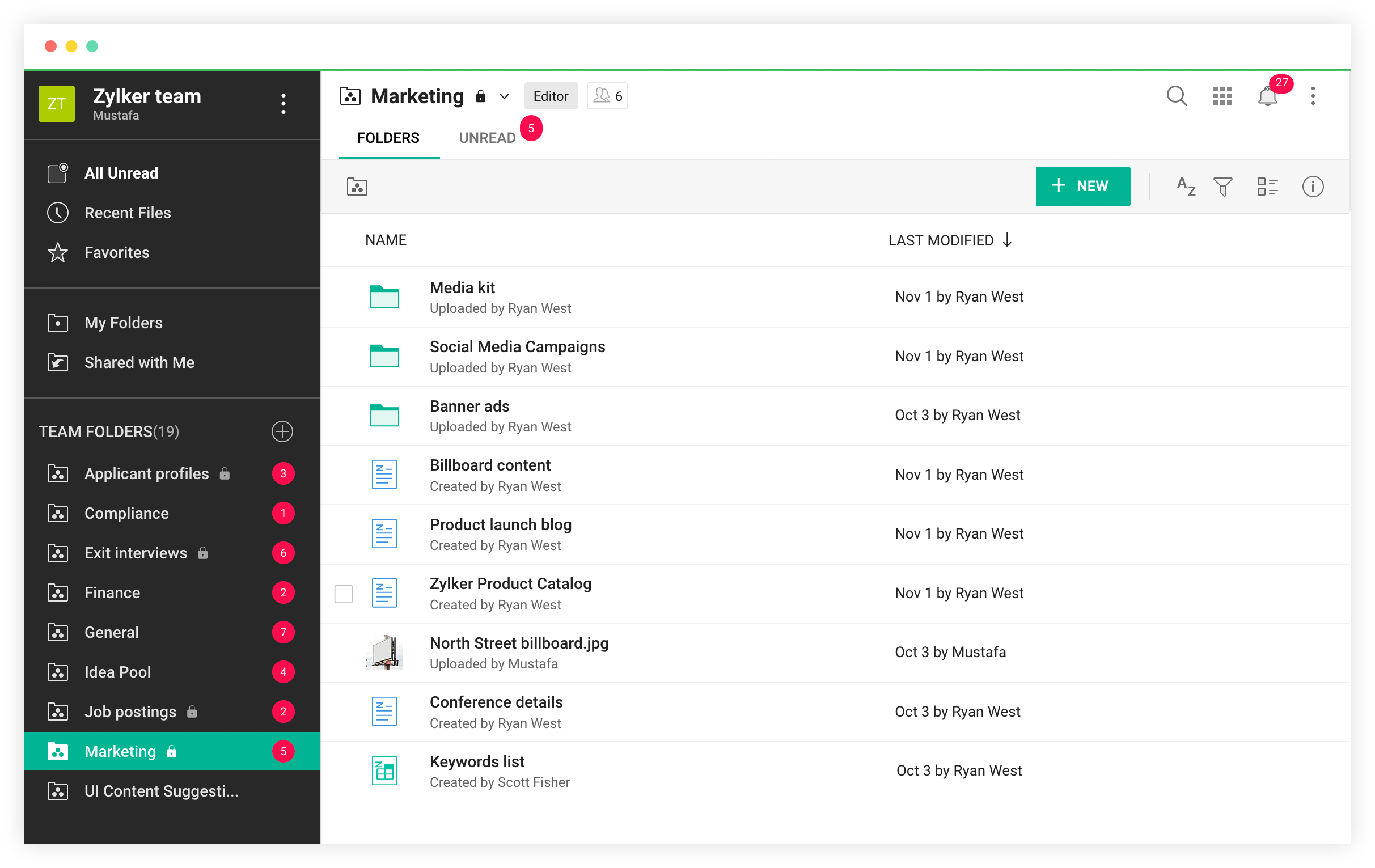 Break silos and
work as a team
Include all your team members on projects to ensure strong synchronization and minimal process delay. Use Zoho WorkDrive to create and collaborate under one umbrella.
A place for every team
Every team needs a place to store their files and discussions. With Team Folders, bring the members of your team and their work together, and enable seamless collaboration.
Save time and work smarter
Put your team on the job instantly, and pool your ideas instead of sharing files with each member individually.
Enable process transparency
Using public Team Folders, make company-wide announcements and ensure that the information is available to everyone. Share files externally to keep external stakeholders (like vendors and suppliers) in the loop, too.
Many hands make work easy
Entrust your work responsibilities to your team members and reduce the load on your IT administrator. Help your team do more by delegating responsibilities.
Administrate from the bottom up
Did you accidentally delete a document? Don't worry about bothering your Team Admin every time. Delegate control at different levels by making your team leaders the admins of their respective Team Folders.
Responsibilities that count
Give your team members access to the files in a Team Folder based on their roles in that team. Choose from a range of member roles such as admin, organizer, editor, and viewer.
Work together
across the globe
Move your business globally and still function as efficiently as working from one location. With Zoho WorkDrive, stay up to date on all your projects even when not physically present.
Stay synchronized
Work in the office or at a client's location. Keep all the latest versions of documents with you, in your laptop or mobile phone, and access them wherever you go.
Carry your workspace with you
Keep all your files in hand. With the Zoho WorkDrive mobile apps for Android and iOS, you can now view, edit, and share work right from your phone.
Ready to move your business to Zoho WorkDrive?
Sign up now