Prepare data for Analytics & BI
Data preparation for analytics is important as it enables organizations to interpret and analyze data, and make data-driven decisions. Data analysts help clean and prepare inconsistent and invalid data before they get to analysis and insights so that the results from BI and analytics applications will be viable.
Sign up in less than 60 seconds
Boost analytics' accuracy using cleaner data
Data analysts and scientists spend over 80% of time preparing data. Zoho DataPrep helps speed up the process and improves the data preparation experience.
Consolidate scattered data

Connect to a variety of data sources such as files, feeds, FTP servers, cloud storage, databases and data warehouses. DataPrep helps you collect scattered data and blends data for advanced analytics.

Fix data quality issues

Fix data quality issues such as invalid, missing, and duplicate records using advanced transformation techniques. Get a real-time assessment of the data quality with every change made to your data.

Parse unstructured data

Format unstructured data with features such as smart selection, pattern-based text extraction, JSON parsing, smart clustering, and more.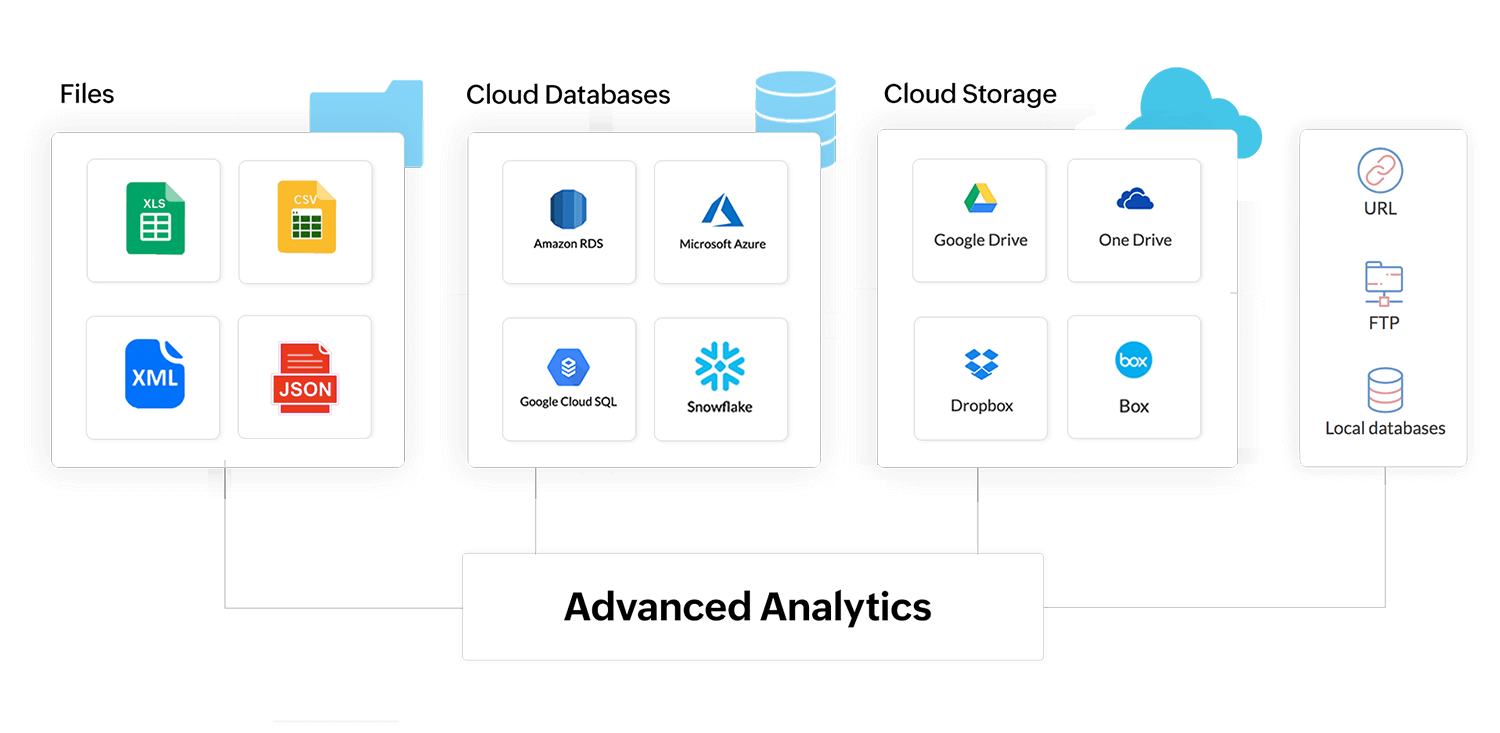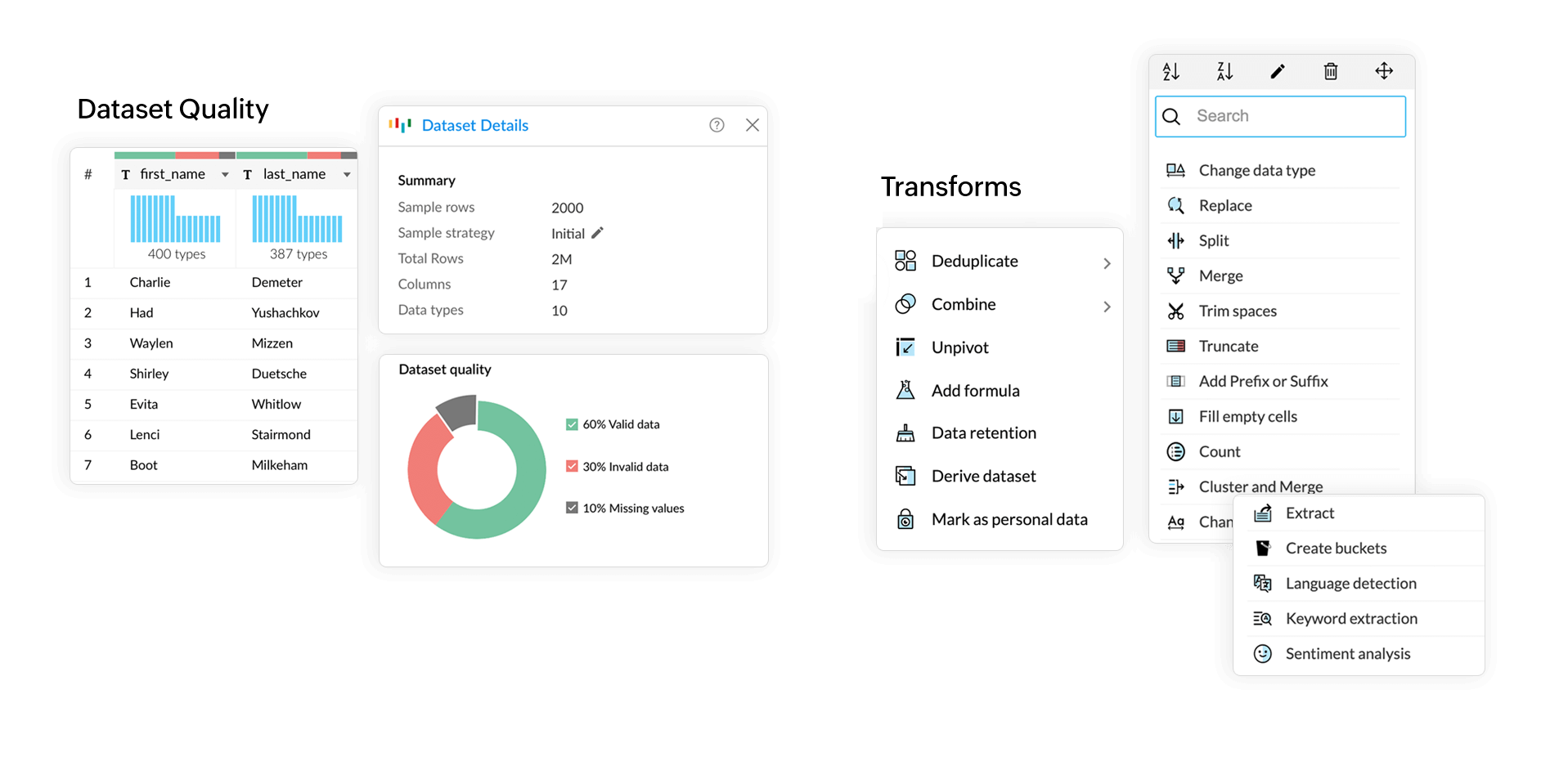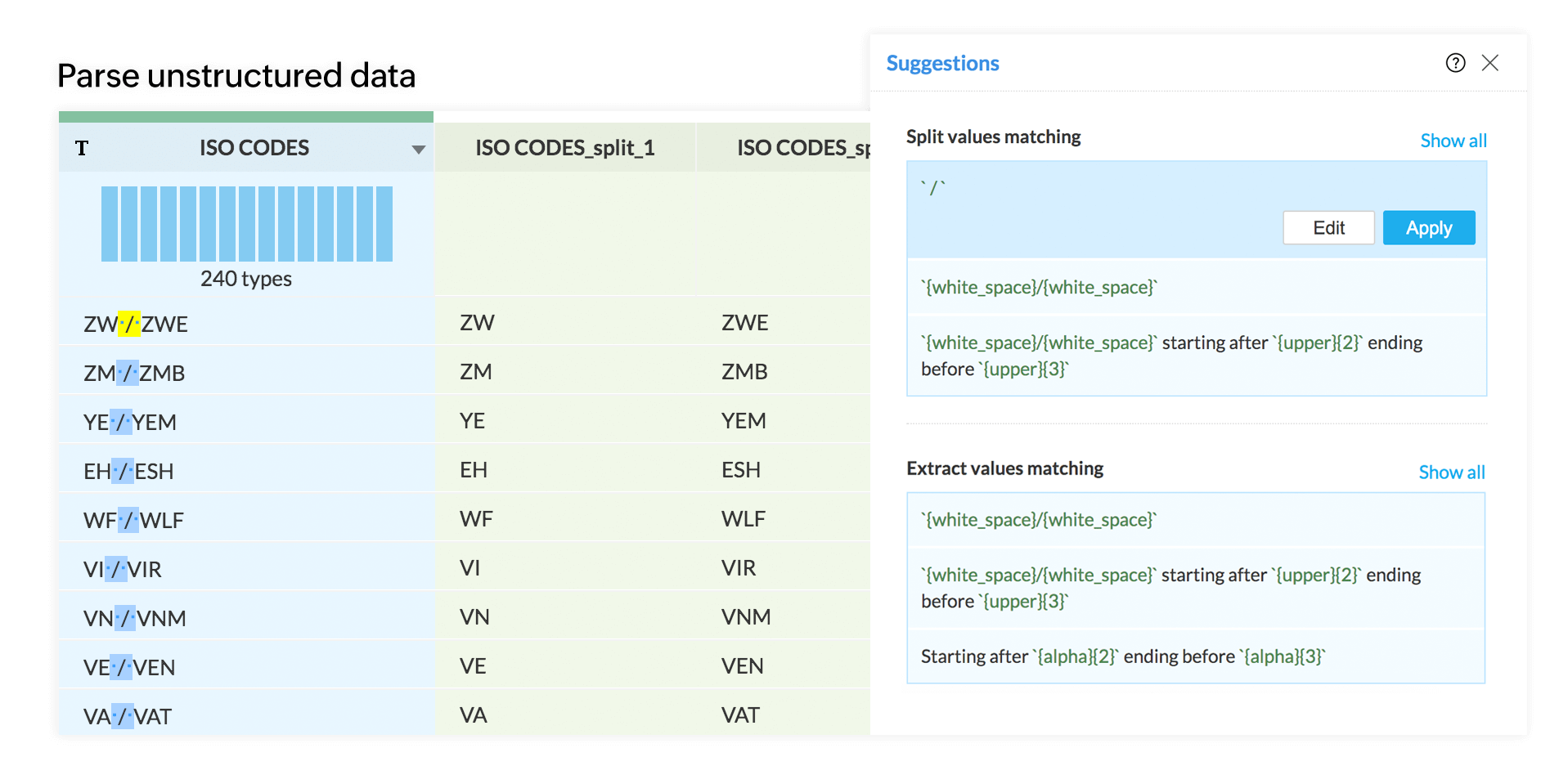 Stop data analysts spending more time on ETL
Multiple Sources

Import data into Zoho DataPrep from a variety of sources including files, REST APIs, cloud storage services, databases and FTP servers.

Improve Data Quality

Fix data quality issues in your data to improve the accuracy of your analytics.

Transform and Enrich

Use 250+ transformations to transform, enrich and prepare your data to cater to your BI and analytics requirements without any coding.

Automate Processes

Setup end-to-end pipelines to get data into your analytics applications. Monitor data pipelines for drop in data quality and get alerts.

Secure Data Sharing

Collaborate securely with teams using role-based access controls. Ensure users can only access the data intended for them.

Catalog Data

Classify and catalog data, mark datasets that are ready to be synced with your analytics or BI application.
Tight integration with Zoho Analytics
Zoho DataPrep is tightly integrated with Zoho Analytics for you to quickly connect to the data in Zoho DataPrep and clean the data right inside Zoho Analytics.
Zoho DataPrep add-on for Analytics
Analytics connectors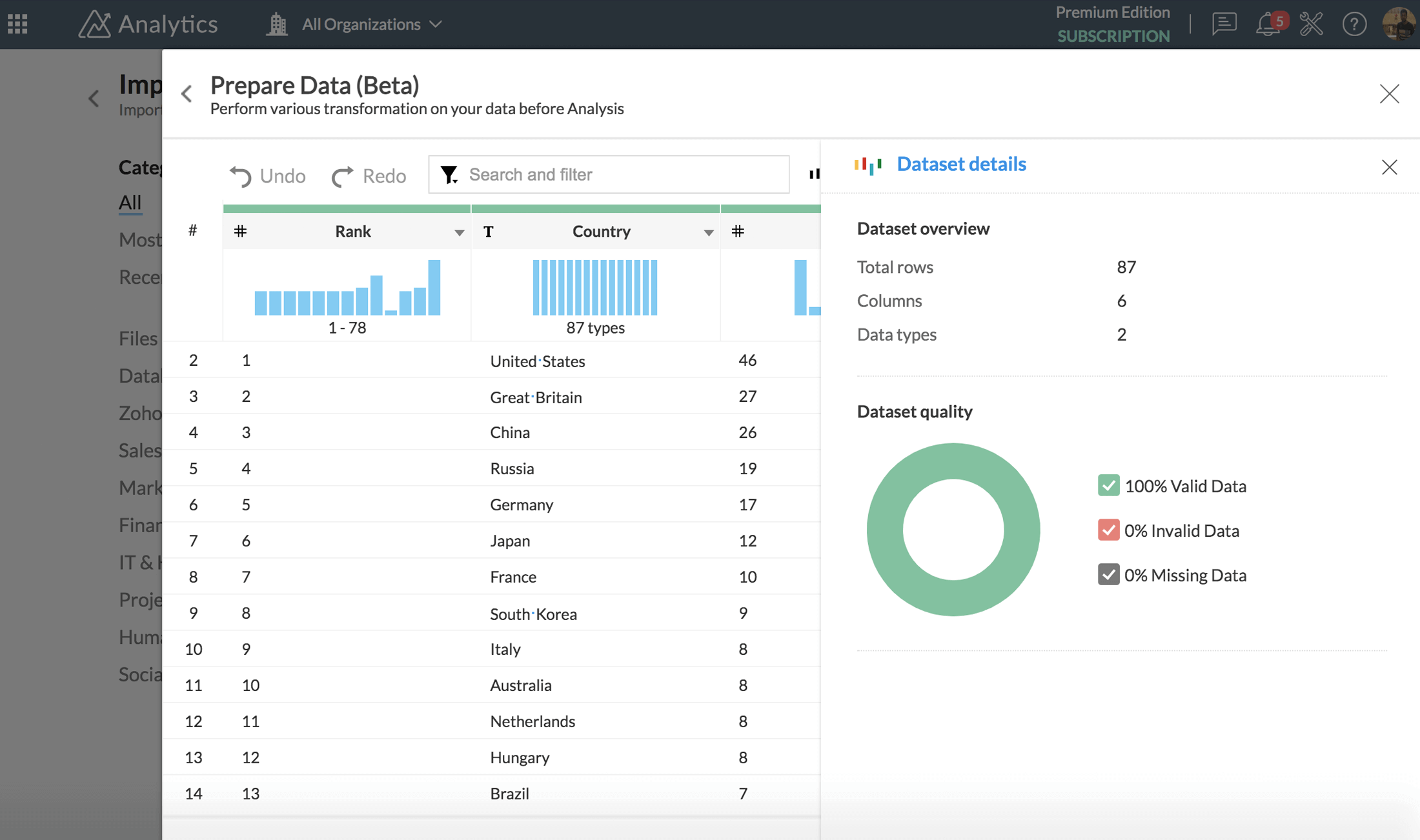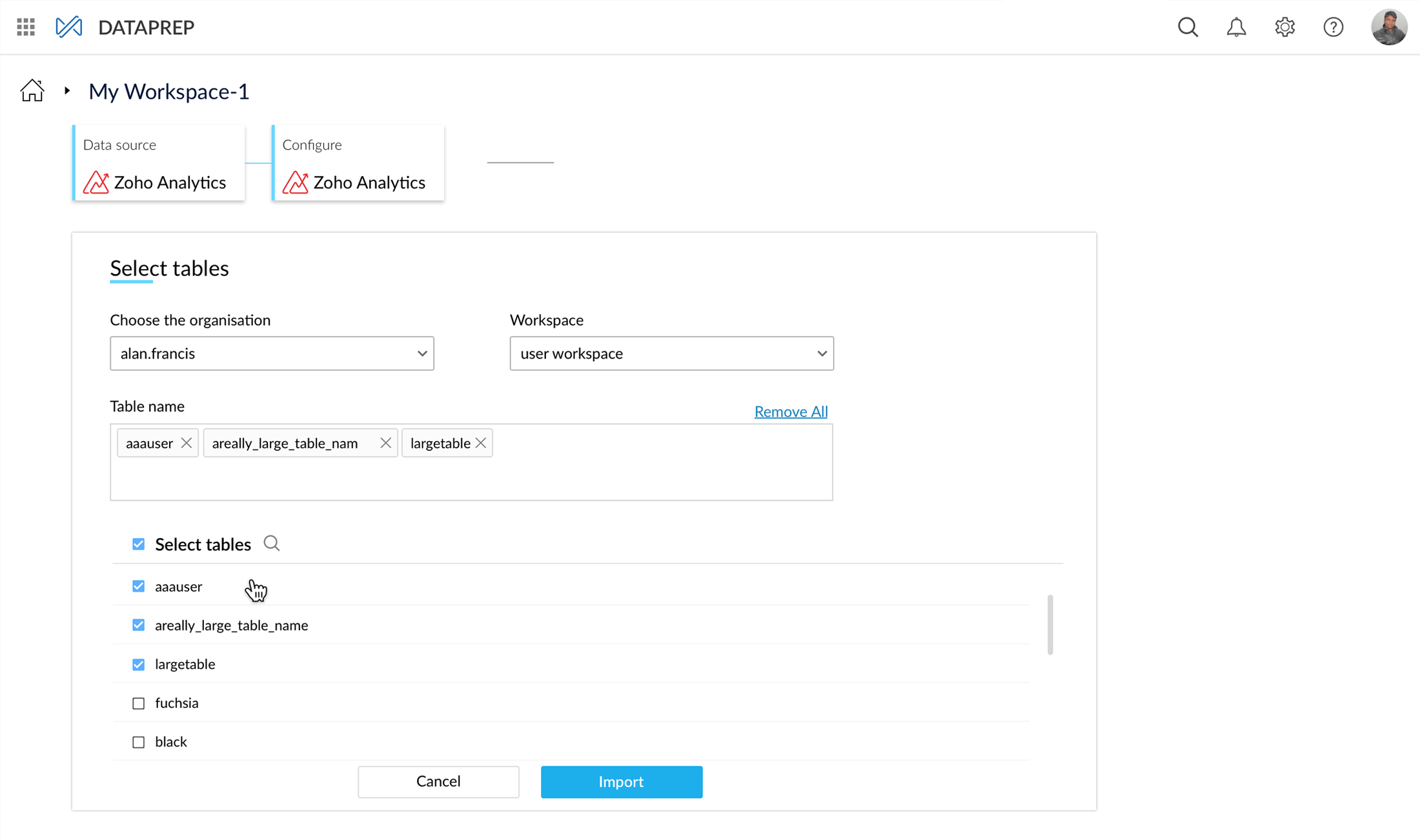 "Zoho Dataprep has taken the time it takes to clean and import our data from multiple hours down to minutes. I am able to provide my clients better tracking of their key statistics because I now have an automated way to take in their third-party data."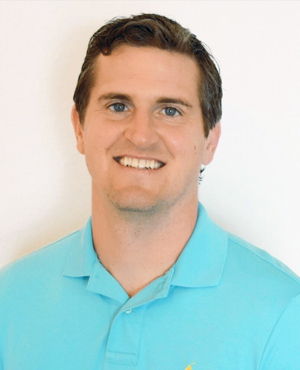 Bob Sullivan JD
COO, Vector Solutions