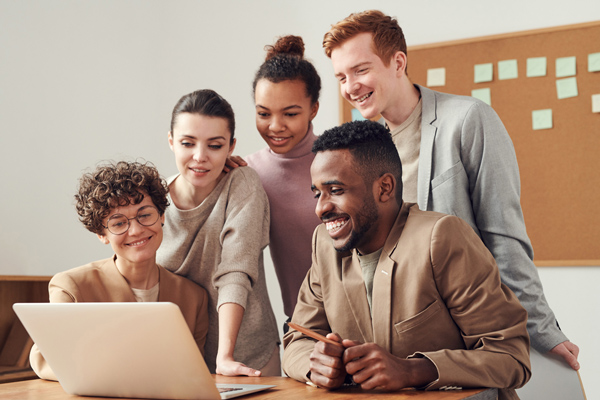 Customer Experience
Gartner defines customer experience as "the customer's perceptions and related feelings caused by the one-off and cumulative effect of interactions with a supplier's employees, systems, channels or products."
As the number of channels customers interact with you through keeps increasing, listening to customer requirements, maintaining a unified tone, and providing highly personalized communication can shape their experience and contribute to improved customer satisfaction and loyalty.
Customer Experience
vs
Customer Engagement
"Customer experience is how a customer feels about a company over time. It's an evolving/changing/shifting kind of feeling – but it's a feeling. Whereas when it comes to customer engagement my definition is: the ongoing interaction between company and customer offered by the company, chosen by the customer."
Paul Greenberg,Author of CRM at the Speed of Light and The Commonwealth of Self-Interest: Business Success Through Customer Engagement
Importance of Customer Experience
Customers want the best value for their money. They expect brands to engage with them meaningfully in every interaction and enhance their experience during their journey.
A positive experience enhances the bond between you and your customer, improving their trust, retaining their custom, and turning them into brand advocates.
74%
of consumers are at least somewhat likely to buy based on experience alone
81%
of companies view customer experience as a competitive differentiator
80%
of organizations expect to compete mainly based on CX
Benefits of a Meaningful Customer Experience
Increases customer retention
Creates better brand image
Generates word-of-mouth recommendations
Increases customer satisfaction
Why should businesses unify their customer-facing teams?
Provides your teams with a 360-degree customer view
Promotes easy user provisioning and management
Enables omnichannel communication
Helps you find the right contextual information
Fosters cross-functional thinking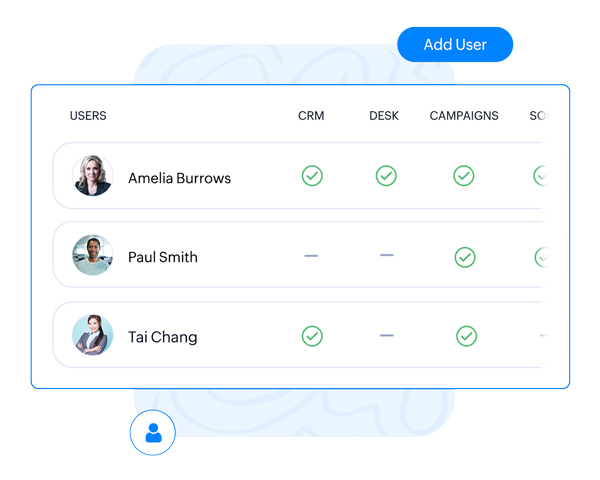 Enable easy user provisioning and management
With all your teams using the same interface, creating and managing user accounts is easy. You have complete control over customer information and who can access it. This increased data visibility and information access enables teams to sell better.
Enable omnichannel communication
Omnichannel communication enables customer-facing teams to switch between different channels seamlessly on one screen. This paves the way for increased collaboration and increases the teams' overall productivity.
For example, you run a travel agency and you have decided to market a new travel package from your brand on social media. The marketing team posts about it on Twitter and gets a variety of customer responses and queries. If your customer teams are separated, it is difficult to transfer key information from one team to another. What if you could turn an interaction on social media into a rapid support ticket or transfer the conversation to your sales team, all from one centralized interface? With omnichannel communication, you can.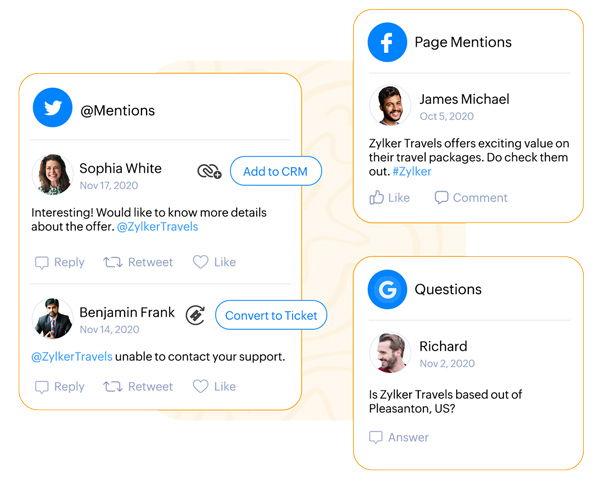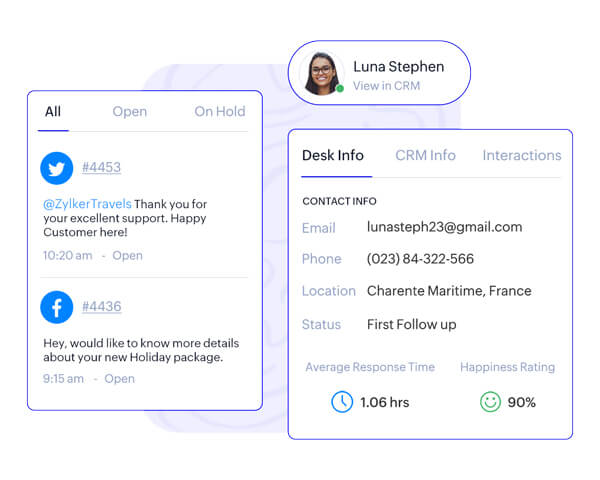 Find the right contexual information
Context is key for customers to feel engaged while interacting with a brand. Information about a customer like basic customer details, recent interactions, marketing and support communication history, and notes of sales conversations, helps you create highly contextual interactions with your customer that will make them feel valued.
Bringing together all the information about your customers from different interactions on one screen gives you a holistic picture of every customer with just a few clicks. This gives your teams the right context to engage in personalized interactions with your customers.
Foster cross-functional thinking
A siloed organization has its customer teams working towards separate goals without considering the overall customer experience. Having your customer teams working together can encourage cross-functional thinking, with a strong focus on consistent customer experience.
If all your teams are working on the same platform, you can assign tasks, discuss ideas, share status updates, and stay connected, enhancing data transparency, improving cross-functional visibility, and simplifying the goal of a tailored experience for every customer.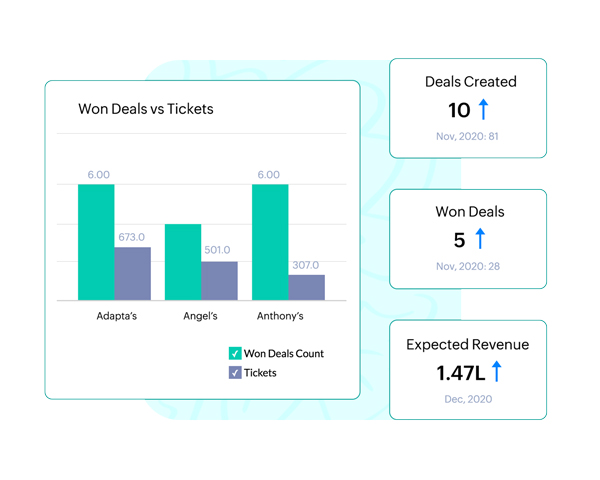 CX for Teams
ForMarketing Teams

ForSales Teams

ForService Teams

ForCX Leaders
For Marketing Teams

Be it designing attractive ad copies, sending email campaigns, or managing social media, marketing teams are always thinking of new ways and channels to reach out to the customer. However, the role of marketing/marketers does not end just there. These tasks are connected with sales, support, and other customer teams down the journey and demand extensive collaboration between teams.

Let's say an unhappy customer visits your website seeking assistance. The marketer should be able to bring up the details about the customer by running a quick search, bring in context to the interaction and effectively switch the conversation to the right support rep within minutes.

For Sales Teams

Every deal is unique and every prospect has different requirements. Sales teams spend the better part of their work time tracking, following up on, and closing deals and they often have little to no communication with other customer-facing teams. Without relevant sales context, it is difficult for marketing and support teams to address the customer's unique requirements.

It's like ordering a pizza. If the sales rep as the server makes a note of the toppings the customer wants, but doesn't communicate this to the service team in the kitchen, then the result is that the pizza served will not be what the customer ordered.

That's why a unified platform that maintains all customer records and connects context across different departments can be a game changer for your business.

For Service Teams

Customer service is a continuous process occurring throughout the customer journey and is not restricted only to the support you provide after a sale. Understanding customer product usage, offering product related support, and evaluating feedback are critical for a successful service team.

But it's hard for service teams to perform well without sales and marketing context. If your service team can instantly view all the interactions the customer has ever had with your brand while looking at a customer ticket or talking to a customer, you can stand out from the competition with the kind of experience you provide.

For CX Leaders

CX leaders set and implement the strategy for improving customer experience. Being a CX leader predominantly involves unifying and analyzing all the interactions a customer has had with different teams. With a huge number of interactions, important data may be overlooked by CX teams, affecting their strategy

Since a pivotal part of creating effective strategies depends on metrics and customer data, a unified tool that enables them to combine data from different touchpoints can help CX leads make informed decisions through cross-functional data analytics.
What is customer experience software?
Customer experience software is a cloud solution that unifies your customer-facing teams, gathers all customer information and helps you analyze customer data and provide a consistent customer experience along every part of the customer journey, all from one truly integrated platform.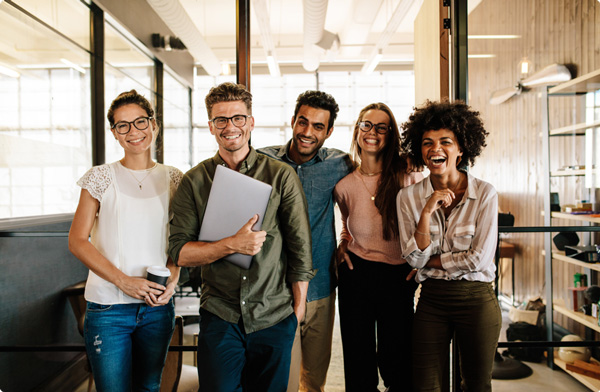 An ideal customer experience software solution enables businesses to successfully target their marketing campaigns, drive sales engagement by analyzing visitor website behavior, indicates the best time to contact a lead based on metrics, organizes tickets based on sales pipeline data, and provides a 360-degree customer view.
The software also breaks down organizational silos and allows seamless flow of data between different departments.
A good customer experience platform should empower businesses to engage in highly contextual and personalized interactions with customers across multiple channels, such as email, social media, live chat and support calls.
Zoho's comprehensive, unified CX solution
Zoho CRM Plus is a unified customer experience platform that brings together your sales, marketing, service, and operational teams in one truly unified interface. Introducing CRM Plus to your workforce enables you to unify all the touchpoints that your customers use to interact with your business and ensure that you have the right data available on your screen when you are sending out a marketing campaign, interacting with a prospect, or assisting your customer post-sales.
Try Zoho CRM Plus for free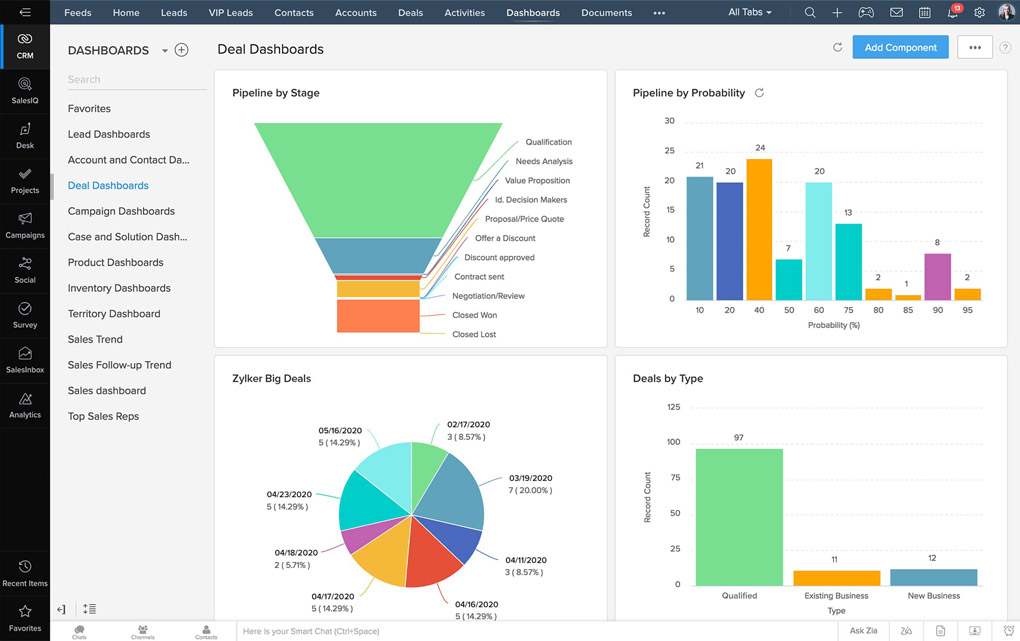 A powerful mix of tools that can be used by different customer-facing teams
Sales automation

Helps sales teams automate their mundane sales tasks like tracking contacts, sending follow-up emails, and more.

Visitor tracking

Geo-locates website visitors and enables sales teams to assist customers through live chat on the webpage.

Customer service

Helps support teams to monitor, convert, and manage customer support tickets.

Projects collaboration

Streamlines work management by enabling teams to plan their work, assign, and collaborate in real time.

Email marketing

Empowers marketing teams to create and send targeted email campaigns to prospects and customers by creating content and defining triggers.

Social media management

Helps you interact and engage with customers across different social media platforms like Facebook, Twitter, Instagram, LinkedIn, and Youtube.

Survey

Helps you design and send out surveys to obtain valuable customer feedback.

Analytics

Allows you to blend data from different services to create reports and dashboards that will help you track your business's performance using key metrics.

SalesInbox

Helps sales teams to categorize emails according to different deal stages and win deals by analyzing the performance of sent emails.