Distribute email surveys.
Zoho Survey, the survey-builder app from the Zoho family allows you to create different types of surveys - like Customer Satisfaction, Net Promoter Score, Marketing Research or Employee Evaluation. You can connect your Zoho Campaigns account with Zoho Survey so that distributing these surveys to a large customer list base becomes easy.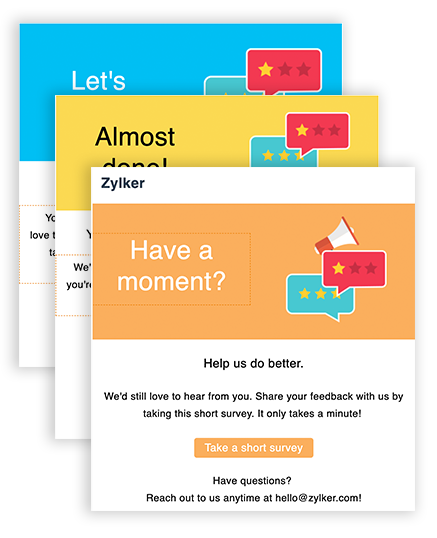 Templates for your survey campaigns.
Zoho Campaigns provides templates that are specially designed for your surveys. Work on your email content, and add them to the email template. Recipients will be routed to the right survey on clicking the call-to-action.
Mobile email templates for mobile-optimized surveys.
Surveys created in Zoho Survey are optimized for mobile phones. The email template that you send out requesting the user to participate in the survey should be optimized too. Zoho Campaigns gives you a number of pre-designed smart templates that you can use to distribute your surveys.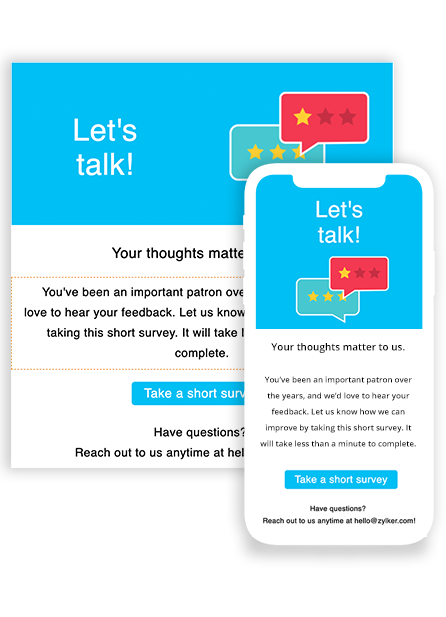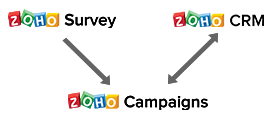 Work from a Single Place
Zoho Campaigns connects with Zoho CRM too. You can easily send out a survey to customer lists stored in your CRM account. Your surveys, customer data and email templates are all in one place.